For 2017, I have begun publishing a small sample of weekly breakout stock picks based on algorithms from my Ph.D. dissertation that identifies price momentum anomalies and reversals. These selections include both high positive momentum breakouts as well as negative momentum stocks, based on the strongest documented characteristics of short-term momentum price behaviors.
Author update
As I indicated with a couple articles in the daily comment section of last week's post, liquidity changes in the market have become substantial. I hope those cautions are of some benefit to any short-term traders. Declining liquidity can be a precursor to changes in market fund flows that have been substantially positive over the past few months. Market outflows not only disrupt the price performance of volatile stocks, but there is always the strong possibility of broader market reversals where different profit strategies are needed and greater portfolio weighting toward short s ide trades increased.
While it is not the purpose of this post to get into daily trading updates on stocks throughout the week, I definitely prefer that readers can profit as I run these small sample weekly tests. I will always try to supply important warnings as they arise, and comments from readers on major stock changes during the week can also be of great benefit to all. As we saw last week with AGEN whose key cancer treatment drug failed to return any positive results and they lost over 16% of their market cap in the span of a few hours (a gut-wrenching result for any company with a drug nearly 4 years in the pipeline) — idiosyncratic risks can only be mitigated by diversifying. Similarly, FET that was flagged by my screens for decline, but instead announced the appointment of a new CEO mid-week that bolstered the stock price and may continue to improve their future performance. While these stock selections remain fixed weekly buy/hold portfolio sample tests, pl ease adjust accordingly as conditions change — especially in the highest periods of idiosyncratic risk (i.e. during the peak of earnings season).
Benchmarks for Week 9: Dow 20,821.76 // NASDAQ 5845.31 // S&P500 2367.34
Last Week 8 detailed results were as follows:

The Research Continues
Let me share some more academic research that corroborates the importance of liquidity and also identifies a potentially useful anomaly as we approach the end of the month. Professors Cao, Simin, and Wang (2013) examined mutual fund performance from 1974-2009 and found that, "fund managers demonstrate the ability to time market liquidity at both the portfolio level and the individual fund level — they increase (reduce) market exposure when the market is more liquid (illiquid)." In a related article I posted in the comments last week, Novus Partners Inc. developed a useful market liquidity measure that has now reached an all time low since they started tracking this data in 1999. It is in these critical periods of record low liquidity where the best fund managers can outperform others and most carefully unwind their positions to preserve capital gains. Awareness of liquidity levels may be valuable information before actual changes in fund flows occur.
A curious end of month anomaly to consider comes from the researchers Rinne, Suominen and Vaittenen (2014) who claim that the most significant market price moves occur from T-3 days to T+3 days around the turn of each month. They attribute the significant returns shown in their chart below to the mutual fund payment cycle and to agency reasons such as "window dressing" within the mutual fund industry. This may also be of interest to you as you manage your short-term trading strategies for the best risk/return positions.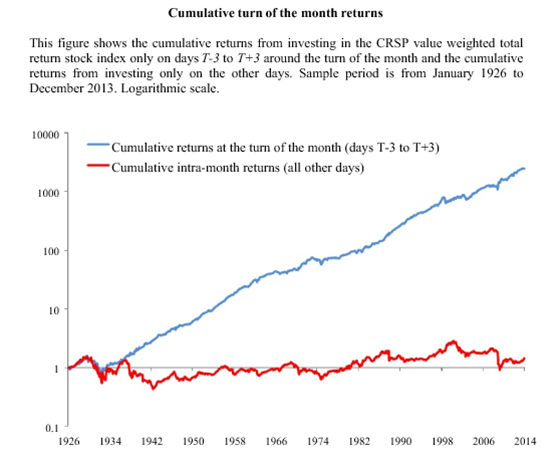 The purpose of my articles will be to continue to document out of sample testing as analyzed from January 2016 in my publication, and to share potentially beneficial opportunities with other investors. I have not decided on the duration of this weekly public sampling, but hope you will find it economically beneficial and trust you will do your own due diligence as well. Please keep in mind that some of the most positive/negative momentum stocks that emerge from these algorithms often include very small capitalized stocks and relatively small trading volumes. The selection criteria has a strong bias toward high volatility please trade accordingly.
The algorithms I constructed discriminate across seven classifications of the momentum cycle, but for purposes of investor interest I will concentrate on the two most potentially profitable components: positive acceleration and negative acceleration. In addition, a sample of high dividend yield stocks with strong upward mo mentum is included to assist more dividend-focused investors. The performance results for each week will be documented in the comments for each article.
Top selections for Week 9 are as follows:
Positive Acceleration Momentum Stocks
These stocks have strong characteristics of positive momentum into acceleration for short-term gains. The typical momentum duration horizon from this analysis is one to three weeks. Based on past analysis it is not uncommon for stocks to sustain the momentum criteria for longer periods. The selections of momentum stocks for this week include BEBE, CDTI, CLUB, FLDM, GNW, OMED, PAH, TTPH: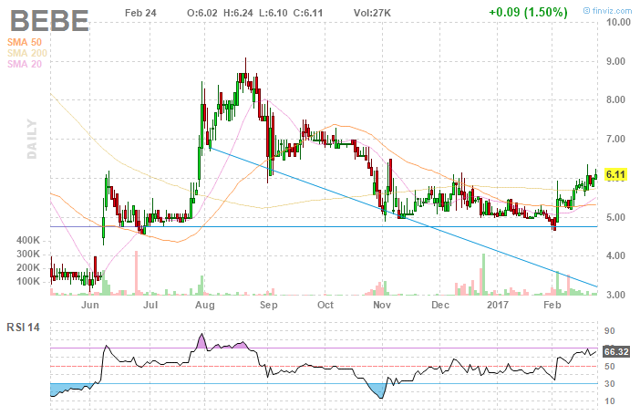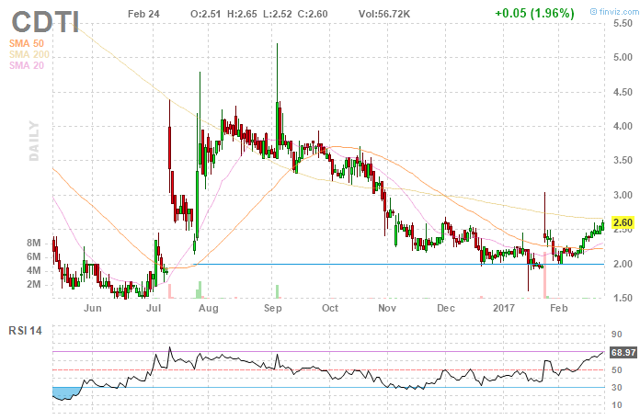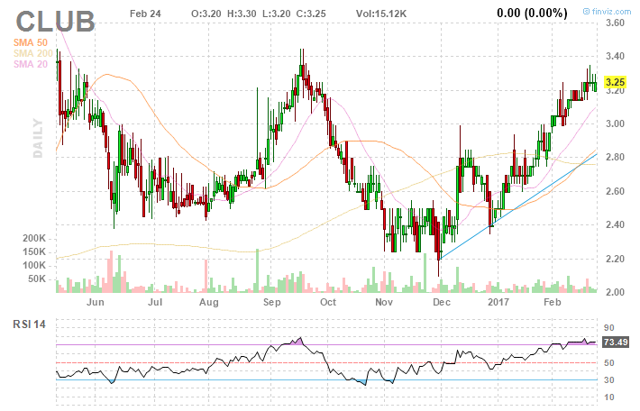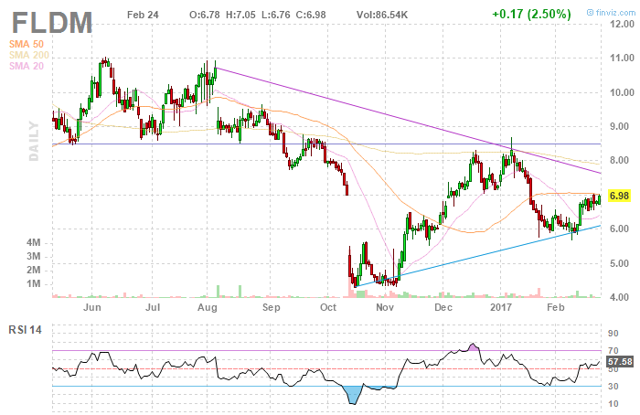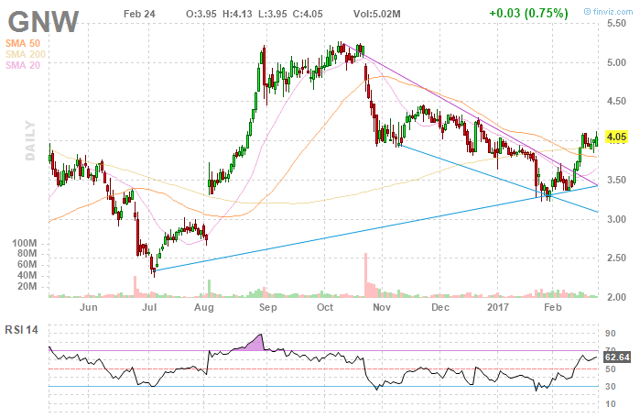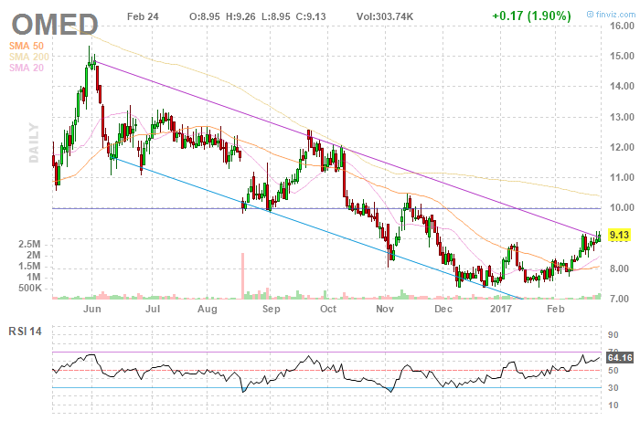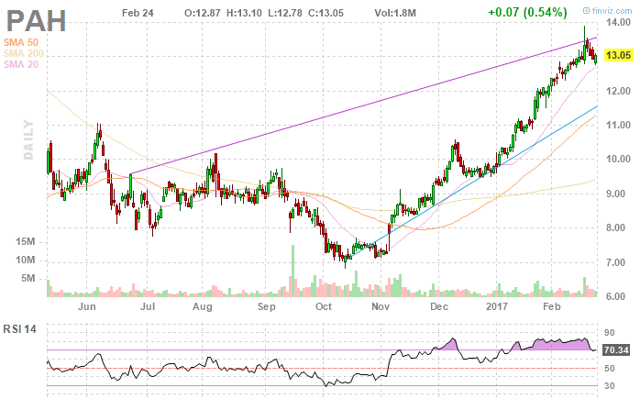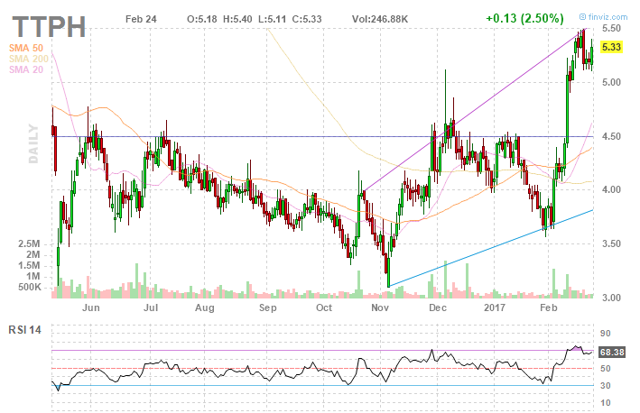 Negative Acceleration Momentum Stocks
These stocks have strong characteristics of momentum decline into acceleration for shorting opportunities. The typical momentum duration horizon from this analysis is one to three weeks. Based on past analysis it is not uncommon for stocks to sustain the momentum criteria for longer periods. The 4 stocks for this week are BRS, CRZO, DXPE, SLCA: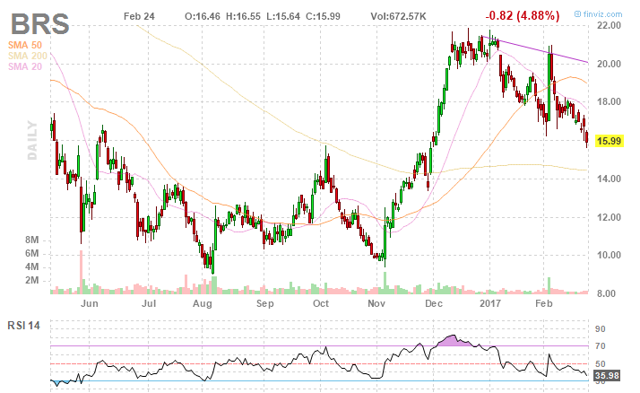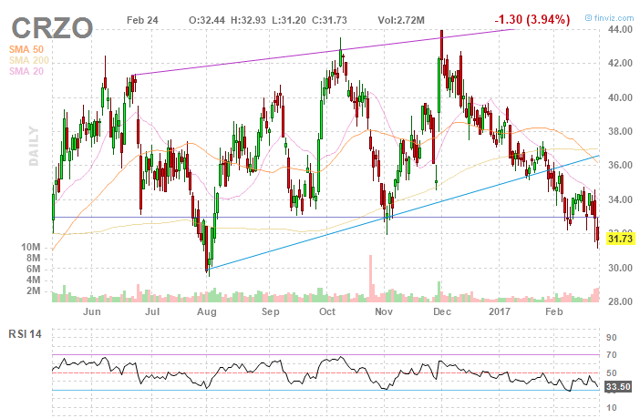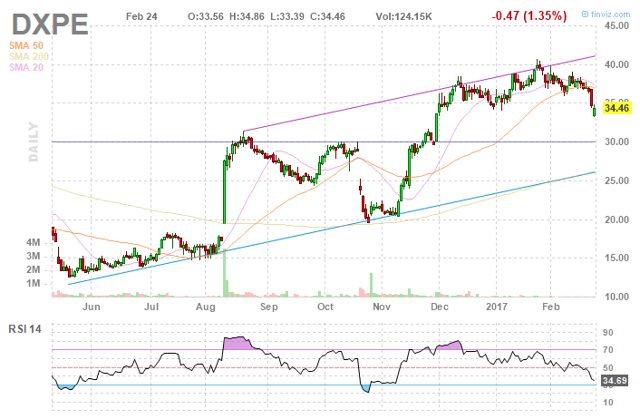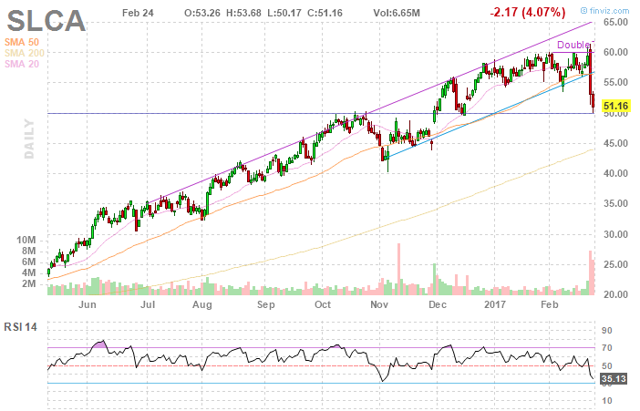 Positive High Dividend Momentum Stocks
These stocks have dividend yields greater than 5% as well as strong price momentum in the short term. The typical momentum duration horizon from this analysis is one to three weeks. Based on past analysis it is not uncommon for stocks to sustain the momentum criteria for longer periods. This may be especially true for dividend stocks that tend to have less volatility than pure growth stocks. Good carry-overs from prior weeks and new stocks for this week include CDI, KCAP, SDLP, TEF: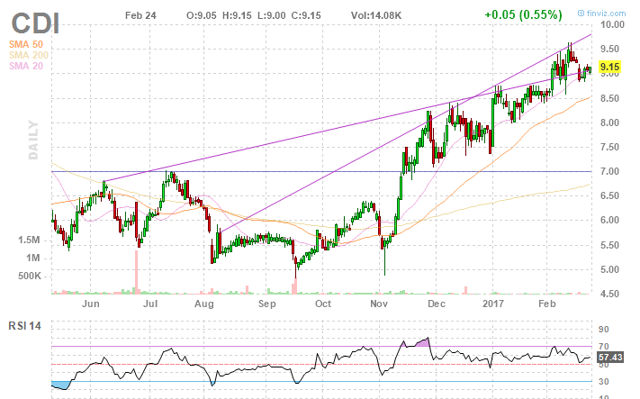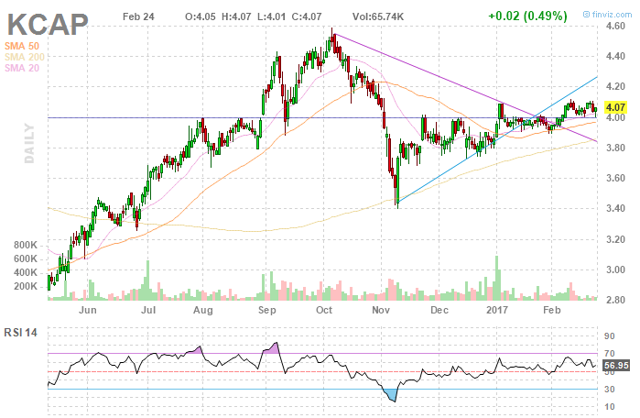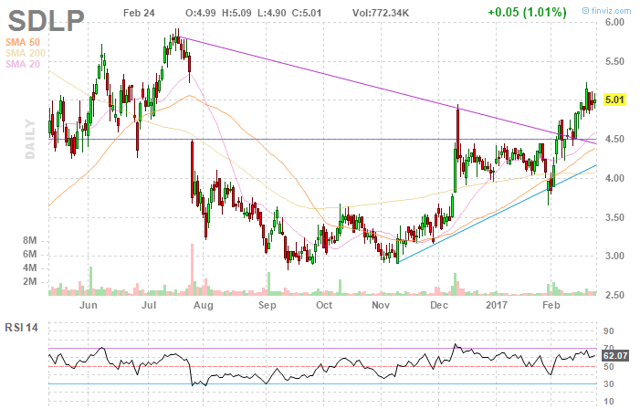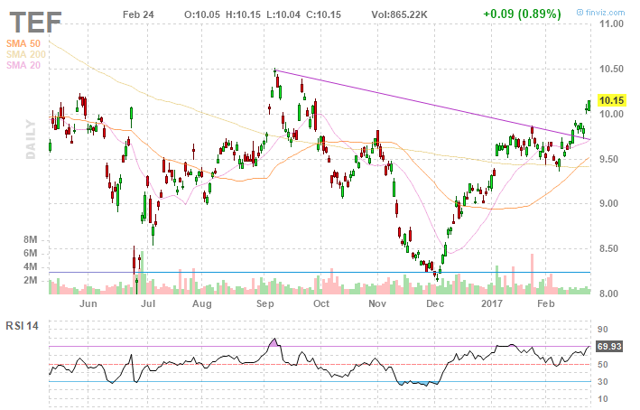 This approach outperformed in 2016 and I am hopeful it will continue to be a reliable indicator of momentum conditions across the momentum cycle throughout 2017. Your comments on this ongoing study are appreciated. Results are updated daily and weekly.
My personal preference is to invest in long positions and not to identify companies for shorting. However, in the interest of documenting both positive/negative momentum breakouts using my algorithms, a small sample of negative accelerators is included. As always I hope you capture the most beneficial of these breakout candidates and have a profitable week!
Disclosure: I/we have no positions in any stocks mentioned, and no plans to initiate any positions within the next 72 hours.
I wrote this article myself, and it expresses my own opinions. I am not receiving compensation for it (other than from Seeking Alpha). I have no business relationship with any company whose stock is mentioned in this article.
About this article:ExpandAuthor payment: $35 + $0.01/page view. Authors of PRO articles receive a minimum guaranteed payment of $150-500. Become a contributor »Tagged: Investing Ideas, Quick Picks & Lists, Technical AnalysisProblem with this article? Please tell us. Disagree with this article? Submit your own.