I have sold my shares in my business as part of my plan to retire at 55. I now have to rely on investments alone for income. Selling a business generates money upfront, but then what? I had taken over my own investments from mutual funds in 2009, and I guess that made me lucky rather than good. Since the crash of oil, investing has been a lot less fun and a lot less profitable.
Sometimes, I would just sit and wonder why a company that I thought was valuable suddenly went down in price over 20% and some even 40%. While I lived through the crisis in 2009 and everyone lost money, I could not understand why all of a sudden prices would drop.
Like most investors, I understand up and down; but -20% or -40% – something is wrong. Of course, this happened during the oil crash when the entire Canadian market sank, and oil dropped to $27 in February 2016. When you are close to retirement, 20%, and especially 40%, seems unrecoverable.
Not all of my investments did poorly, but overall my portfolio shrank 15% in 2015. I was discouraged and wondered why I owned equities. I felt that there must be a better way.
I attended the Money Show recently in Toronto with the sole purpose of finding an investment club. If I didn't find one, then I thought I would start my own. I ran into the Independent Investor Institute, liked what I saw, and signed up.
I have now learned a bit about technicals, so I would like to take a look back at my previous stock picks and determine what I would do now that I understand at least a little bit about what technical traders are looking at. It seems to me that if you want to be a good investor, you need to understand all the factors that affect the market, and maybe more importantly, all the players in the market. The players include virtually everyone under the sun, so it's not like a professional sports team where everyone is trained and professional. Since anyone can invest, there are many that are good and many maybe not as good.
What seems to drive the market is the participants' needs – these needs drive actions. If you are an income investor, dividend growth (DGI) is your primary perspective. If you are a trader, then technicals are your perspective. If you are a dollar cost averaging investor, you buy regularly every month, no matter what the price. Traders find "set-ups" and "entry and exit points" to skim profits off the movements of markets, both up and down.
I'm sure many of you know this, I am stating this to frame this article about stock technicals from an income investor's perspective. My wish is to buy low and sell high. This seemingly simple premise is harder than it looks as many smaller investors regularly buy stocks only to see them drop the very next day. I have read this comment many times here on Seeking Alpha.
My feeling is that traders must know how to buy low and sell high – how else could they make money? So after an intensive 48-hour training course over six days on Swing Trading, here's my perspective now on my first pick.
Don't Get Burned By Oil Again; Use XLE
Released on September 1, 2016, my first stock pick was to choose an ETF. You can read it here. I know that investors have different perspectives, and not everyone can pick companies. The crash in oil prices brought every company down, and I felt that XLE was a safer way to invest in oil than choosing oil companies.
There's a new snapshot of my performance since that article now published right on the article page.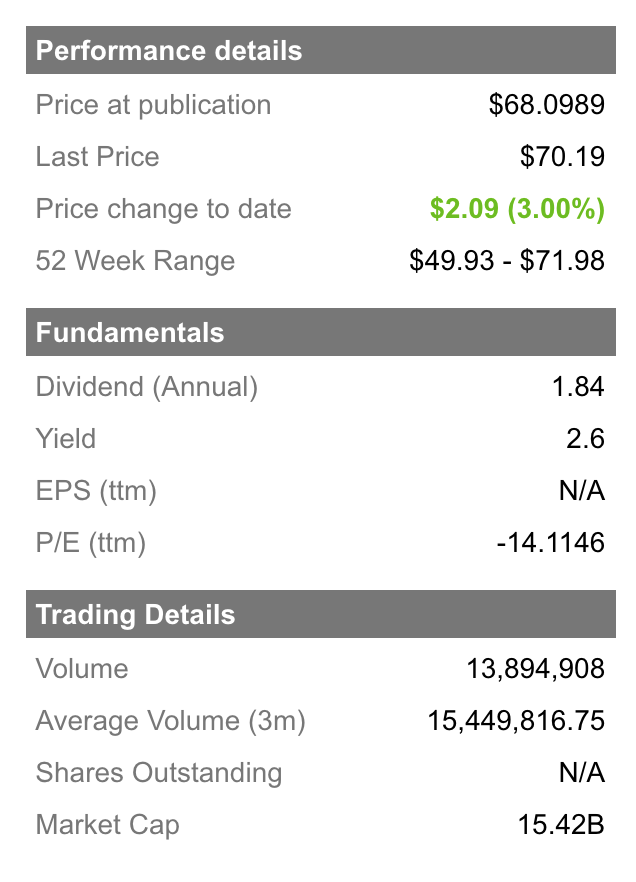 The 3% returns show better relative performance to SPY during that timeframe. I chose an SPY article published on the same day to show you.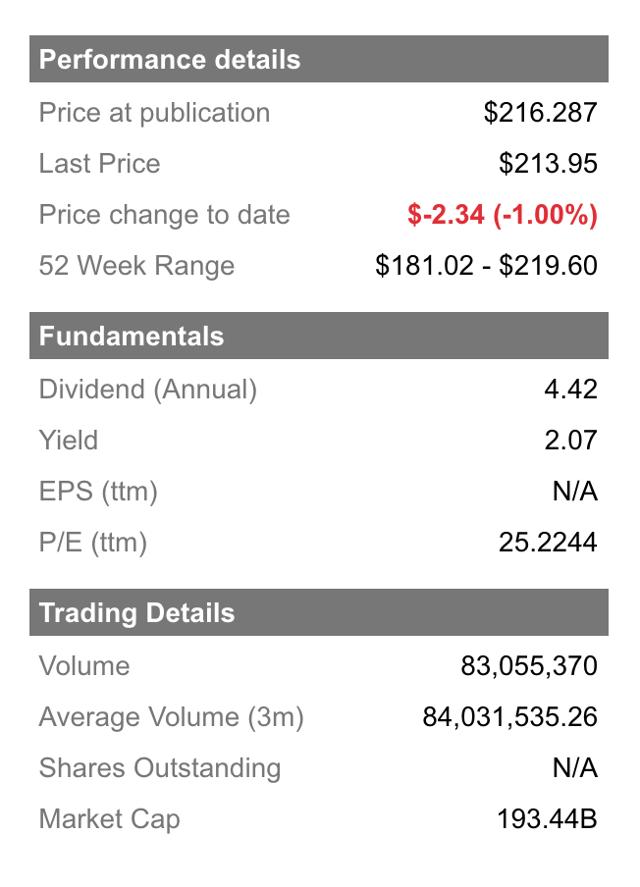 Click to enlarge
The premise of choosing XLE was my history as an oil investor, and my thesis that oil prices would recover.
Here's what I see now when I look at XLE.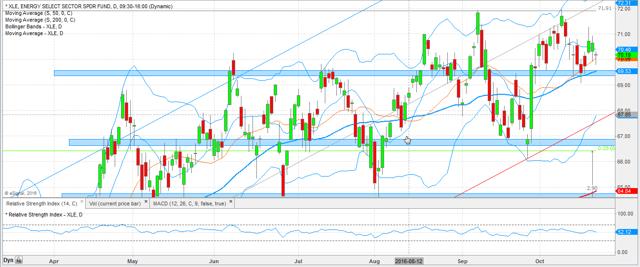 Click to enlarge
I will spare you the pain of me trying to explain this, but basically, XLE has been in an upward channel since February 2016 (this is good) and is at the lower end of its upward channel (also good), since the goal is to buy low and sell high.
The channel, if it's respected, could dip to $64.50, which would be a strong buy and would be good to hold to at least $77.00 – the current upper end of its channel. We would have to assess the technicals again at that time to see if it's a sell, but today, if we were at that price, it would be a sell. The close at time of writing is $70.19.
That means if you buy today, you have a potential downside of $5.69 ($70.19 – $64.50 or -8%). Upside would be $7.00 ($77.19 – $70.19 + 9%). You would have to believe in technicals and know how to read them for this scenario to show you the probabilities of either scenario. Given the macro negative environment of lower earnings for several quarters and strong USD, down is more likely than up. I have had success using this technique myself and I can make better decisions on entry and exit points on my own. I think it's important to understand that almost every trader uses this method and buys and sells based on these signals. I understand that "algos" also use these technical points to automatically trade, so on ETFs which represent whole sectors of the market, you can understand why it's important to know what is important to them
What Do VAR Models Say
There's something that looks a lot like the above chart, you may have read earlier work on vector autoregressions or VAR Models. There are four articles that start here. Robert Balan, a fellow author here on SA, publishes VAR Models based on potential future market movements. Here is the latest blog on oil.
And here is the latest VAR Model on oil and oil companies.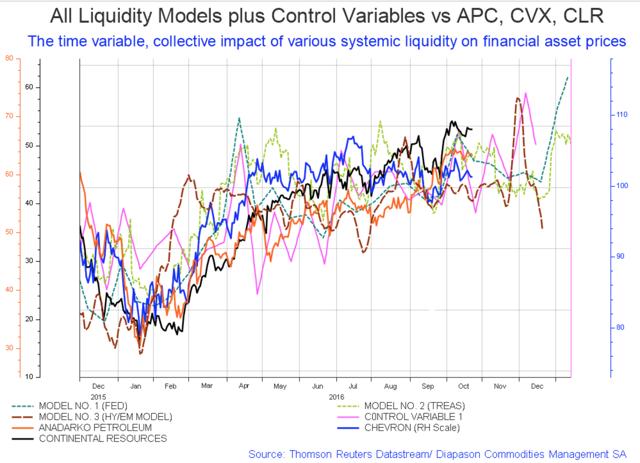 Click to enlarge
Click here for a live link.
You can see oil (the black line) hanging out above the model, I would assume because of OPEC, but there's a definite downdraft in the model, and it appears that it may last at least one more week. There's another dip later in November. Once you are used to the models, you can understand what they are saying – oil is expensive based on the model and could dip anytime.
My understanding of the technicals suggests that we have about one more week of downside risk. The VAR Model shows a dip, possibly sideways for four more weeks and then another dip. Note the downward bias generally until the first week of December. You may recall that VAR Models show trends, but often experience leads and lags. The models work better when all the model lines go the same direction.
Conclusion
The VAR Model and XLE technicals confirm downside risk and I have learned to trust the models. I have yet to have that level of confidence in the technicals, but I'm encouraged that they are telling me the same thing. Note, this is a shorter-term view of what may occur in the oil space, but news can change the story quickly. We have an OPEC meeting coming up November 30th, 3Q GDP coming soon and a general negative bias on the market which is down 1% at the same time oil ETF XLE is up 3%. I will keep you posted on what I learn in the coming weeks. Thanks for following along.
Disclosure: I am/we are long CHK, CPG, APA, APC, HFC, WNR.
I wrote this article myself, and it expresses my own opinions. I am not receiving compensation for it (other than from Seeking Alpha). I have no business relationship with any company whose stock is mentioned in this article.