I do acknowledge that Roku (ROKU) reported excellent sales growth for Q3 2017. The company achieved a 40% increase in total net revenue and platform revenue growth of 137% over the same period last year. Roku is making strong achievements and the stock might be a good investment for the long-term if the company can sustain its strong growth. However, the stock is now priced at a lofty valuation after a significant run-up. I think multiple factors will cause the stock to fall significantly over the next few months.
Factor #1: High Valuation
After more than doubling from under $19 to over $40, Rokus stock is trading at a lofty valuation at an overbought level. The trailing price to sales ratio is 8.9 and the forward price to sales ratio is 5.9. This has Rokus stock valued higher than Netflix (NFLX), which has trailing and forward P/S ratios of 7.8 and 5.7 respectively. This is significantly higher than the CATV Systems industrys average P/S ratio of 2.5.
Roku would have to consistently sustain strong growth to maintain such a high valuation level. Netflix stock has been an anomaly valuation-wise as a result of strong sustained subscriber growth. It is doubtful that Roku will be able to remain an anomaly with such a high valuation over time due to an abundance of competition.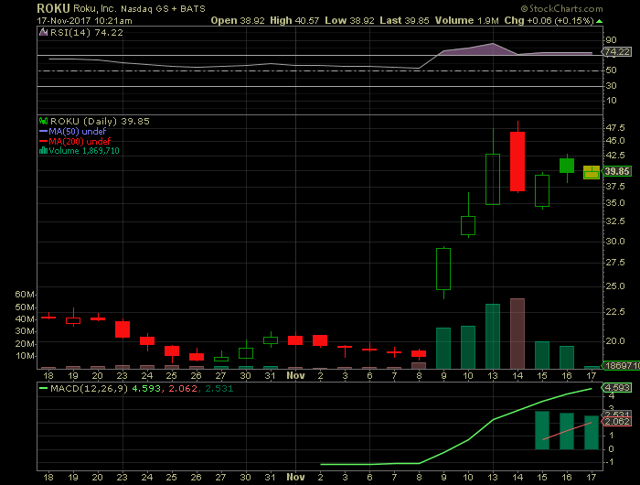 Factor #2: Profit Taking/Shorting
After such a strong run-up, investors are likely to take profits off the table. It is not often that investors can book a profit of over 100% in less than a month. So, I expect selling pressure from investors who will sell their positions to lock in their profit.
There is also a high short interest on Rokus stock. Over 30% of the float is short Rokus stock. This is likely to put further downward pressure on the stock. The stock is at risk of a bear raid affect, where selling can lead to more selling as additional investors lose confidence in the stock and sell out of their positions.
Factor #3: Plenty of Competition
Rokus actual business faces a lot of competition. TV streaming can be done on game consoles such as Microsofts (MSFT) Xbox One, Sonys (SNE) PlayStation, and the Nintendo (OTCPK:NTDOY) Wii. Other competition includes Amazons (AMZN) Fire TV, Apple (OTC:APPL) TV, the Google (GOOG) (GOOGL) Chromecast, and Smart TVs.
Roku enthusiasts will argue that the Roku devices offer high quality streaming experiences. That is true for the higher priced models that allow you to stream in 4K HDR as compared to lower priced streaming devices. However, the latest Apple TV, Amazon Fire TV, and the Google Chromecast Ultra also provide 4K HDR streaming. So, Roku doesnt have a great differentiating advantage over the other competitors.
Ultimately, a streaming device for the sake of streaming TV is a commodity product. These devices allow consumers to stream TV. There isnt much to differentiate these products when comparing the same tier of picture resolution across brands. Therefore, as time goes on and more of these products become available to the market the price of the devices are likely to decline. This is likely to occur because of an increase in supply and price competition in the market.
If the price of devices drops over time, it would have a negative effect on Roku's revenue.
Factor #4: Lockup Expiration
Rokus lockup expiration occurs on 3/27/2018. This will allow insiders and large investors who hold large positions in the stock to sell shares. With such a large move in the stock since the IPO price of $14, insiders are likely to sell some shares to lock in their profits. This is likely to create selling pressure for the stock, driving the price down.
Weve witnessed the effect of lockup expiration with other high-profile companies. Facebook (FB), Twitter (TWTR), Snap (SNAP), LinkedIn (LNKD), and Tesla (TSLA) all experienced significant declines after their lockup periods ended. So, I think it is likely to happen to Roku, especially since the stock ran up to such a high valuation level.
Savvy investors will probably be anticipating this event by shorting the stock to profit from the expected drop in price. This selling pressure will add to the selling from the other factors that I mentioned.
Near Term Outlook for Rokus Stock
The four factors that I mentioned are likely to cause the stock to experience selling pressure over the next 5 months. Investors have seen the IPO story many times before and I dont think Roku will be any different. When you have a high-profile company that experiences a strong stock move after the IPO, the price tends to drift lower towards and after lockup expiration due to one or more of the factors that I discussed.
I could be wrong in my assessment. It is possible that investors continue to give Roku a high valuation just like they have to Netflix and Amazon over the years. However, Roku would have to continue to post strong sales numbers and exceed estimates going forward to achieve that. With plenty of competition and no differentiation in streaming devices, I dont think Roku will be able to avoid disappointing sales figures and the impending sell-off over the next few months.
The selling pressure in these situations can be significant. Weve seen stocks like Facebook, Snap, Twitter, and Blue Apron (APRN) drop to below their original IPO prices. I am not saying the price of Rokus stock will drop below the IPO price. However, I think it would be reasonable for the stock to drop slightly above the industrys average price to sales ratio of 2.5.
Im saying that the stocks P/S ratio will remain above the industrys average because the company is currently posting above average sales gains. So, Im estimating Rokus P/S ratio to fall to 4. This still allows for a premium in the price as compared to the industry. This would take the price of Roku down to $20 to $21 based on expected 2017 sales of $507 million and shares of 97.82 million. So, over the next 5 months, there is 50% downside potential for Rokus stock.
Disclosure: I am/we are long FB.
I wrote this article myself, and it expresses my own opinions. I am not receiving compensation for it (other than from Seeking Alpha). I have no business relationship with any company whose stock is mentioned in this article.
Additional disclosure: The article is for informational purposes only (not a solicitation to buy or sell stocks). I am not a registered investment advisor. Investors should do their own research or consult a financial advisor to determine what investments are appropriate for their individual situation. This article expresses my opinions and I cannot guarantee that the information/results will be accurate.
About this article:ExpandAuthor payment: $35 + $0.01/page view. Authors of PRO articles receive a minimum guaranteed payment of $150-500.Tagged: Investing Ideas, Short Ideas, Technology, Multimedia & Graphics SoftwareWant to share your opinion on this article? Add a comment.Disagree with this article? Submit your own.To report a factual error in this article, click here