Netflix (NASDAQ:NFLX) closed out this past week at a historic high, putting it at $198.02 per share with a market capitalization of almost $86 billion and a very richly valued GAAP P/E ratio of 241.48.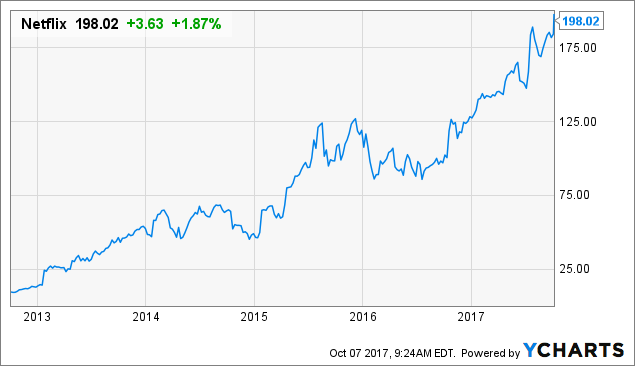 NFLX data by YCharts
For a company that made only $186 million in net income in 2016, that has announced plans to increase spending on content buying to $7 billion in 2018 compared to $6 billion in 2017, and that is starting to face an increasingly crowded content streaming and subscriber space from companies like Google (GOOG, GOOGL), Disney (NASDAQ: DIS), Amazon (NASDAQ: AMZN), Apple (NASDAQ: AAPL), and others, investors seem particularly euphoric about Netflix's competitive advantages.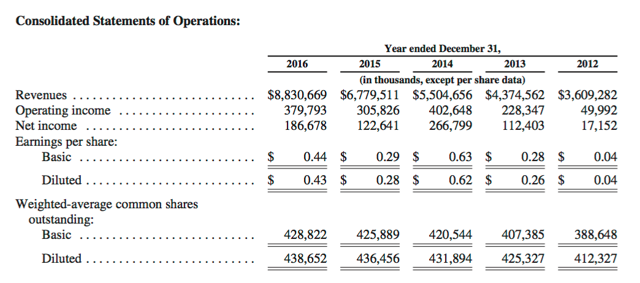 (Figure: 2016 Netflix Form 10-K, Source: Securities & Exchange Commission)
As it tries to hold onto its U.S. market share amid increasing competition and move forward with its international growth plans, the question is if this rich-premium on Netflix can sustain itself?
While Netflix has impressively shattered the doubters, I believe the company does not justify such a high valuation given the competitive risks it is facing, as well as its apparent ability to constantly need to increase spending on content to the detriment of its cash flow.
I. Can Netflix Sustain Itself?
Unlike Amazon, Netflix has been at least generating a competitive profit in its core business models. The main competitive risk for the company is if it can keep subscriber growth on track, let alone keep current subscribers, as the need for more content grows and other well-positioned competitors begin to jump into the space with their own services, whether that be Amazon Prime, YouTube Red, or other potential streaming platforms that rival tech giants appear to be preparing to soon launch.
In order to continue to keep its subscribers engaged, the company spends inordinate and constantly growing sums of cash on content every year. In the content streaming space, new content is constantly needed to keep subscribers engaged, as well as to bring on new subscribers.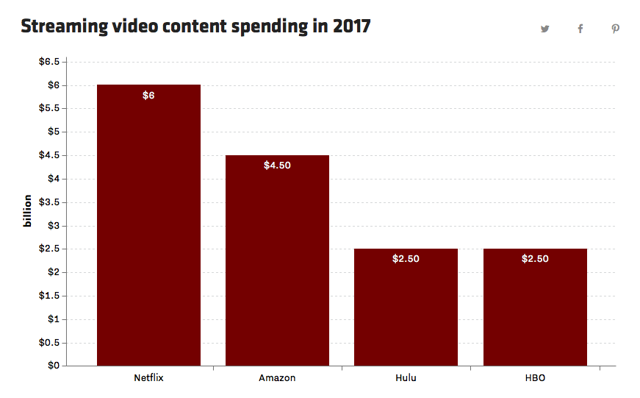 (Source: ReCode)
Netflix's key problem remains that in order to sustain growth and keep its subscriber base with its extreme content spending, it has maintained a consistently negative actual cash flow with little change in sight.

(Figure: Netflix 2016 10-K, Source: Securities & Exchange Commission)
The company's goal with its content spending future is, in the words of its content chief in August, to be split 50/50 between licensed content and content that Netflix itself funds and originates. Essentially, that means Netflix is aiming to be both a content aggregator/distributor as well as a film production/finance studio (it is worth noting some other new competitors, such as Disney, have announced similar goals/plans).
Netflix's market penetration over the past few years has been impressive, with optimistic prospects for its international growth, but it has also been one that was largely without much significant competition and which allowed the company to freely expand in the internet content streaming space.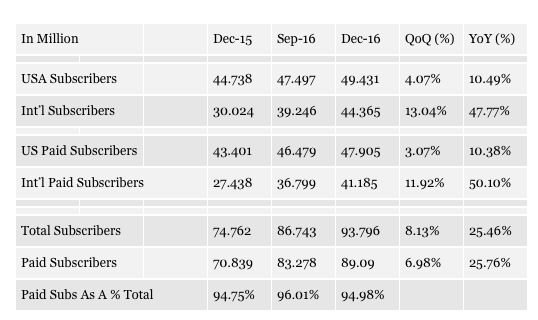 Netflix's free reign at the time was largely due to the skepticism of other tech-giants, film studios, media networks, etc. in the internet paid content streaming space, as YouTube and other outlets provided a free experience that seemed to dominate people's time watching videos online and people questioned the less-social experience of internet streaming.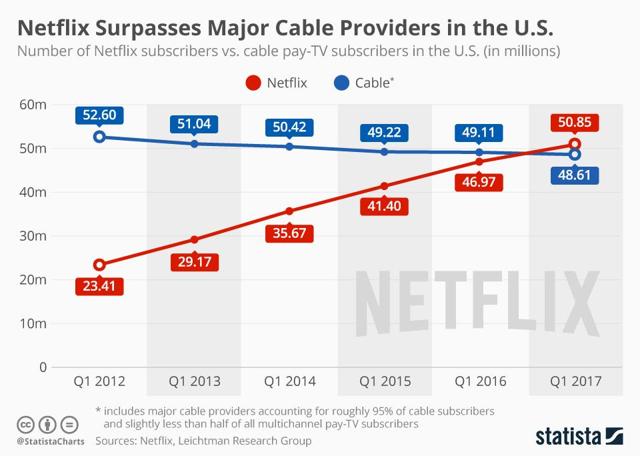 As the years have developed, with movie theaters rapidly declining even more, with free streaming services heavily cleaning up the availability of copyrighted and licensed material being posted on their sites, and internet streaming having found ways to appeal in a social way to the population, it appears that the Internet content streaming market is growing rapidly and with a potential size that many had not previously expected.
As even cable news appears to be suddenly rapidly declining, with the number of U.S. adults with access expected to decline from 196.3 million this year to 181.7 million in 2021, the Internet streaming space appears to be where the future content streaming space is.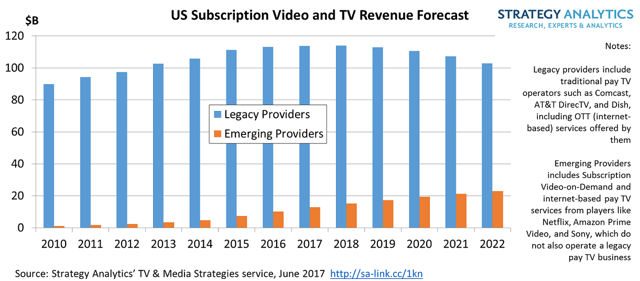 After all, with that many U.S. adults interested in content streaming, if each one paid $5-12 a month for streaming, with that being $60-144 a year, that is a potential over $12-29 billion market for just U.S. viewers for one content streamer, assuming the crossover holds. If viewers subscribe to multiple content streamers (which is very possible as the fight over content increases), the overall market increases rapidly.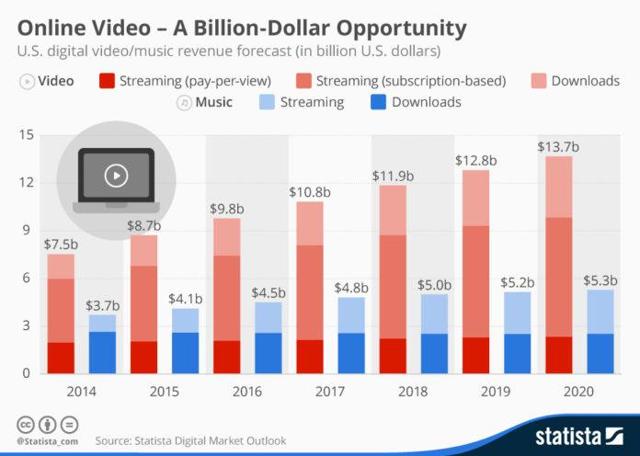 Of that market, Netflix currently commands an impressive 52 million domestic U.S. subscribers and 104 million internationally. The company appears to understand it may have reached its saturation point domestically as well, as it has now begun to raise the price of its services recently rather than continue to focus on user growth with cheaper prices.

Ironically, Netflix raising its subscriber price has the potential to begin to help with its negative cash flow. However it will be worth watching closely how significantly the price increase affects its ability to hold on to the current U.S. subscriber base as well as grow it, especially as other competitors jump in.
II. Why Are Other Competitors Threatening to Netflix?
Unlike many other content streamers, Netflix gains essentially all of its revenues from subscription fees. While proudly boasting that it is "commercial-free", nonetheless it thereby cuts itself off from a major source of revenue that other content streamers and TV networks have long sustained themselves off of in addition to subscription fees.
As these cable TV networks (like CBS Corp. (NYSE:CBS)), film studios (like Disney), and tech giants (Google, Amazon, and even Facebook (NASDAQ:FB) now apparently with its new jump into the content streaming space, with billions of already integrated users at the ready), jump into the content streaming space, they may have more experience with advertising fees, as well as content licensing in general, that make their growth in the content streaming space more powerful and profitable than that of Netflix in its current form.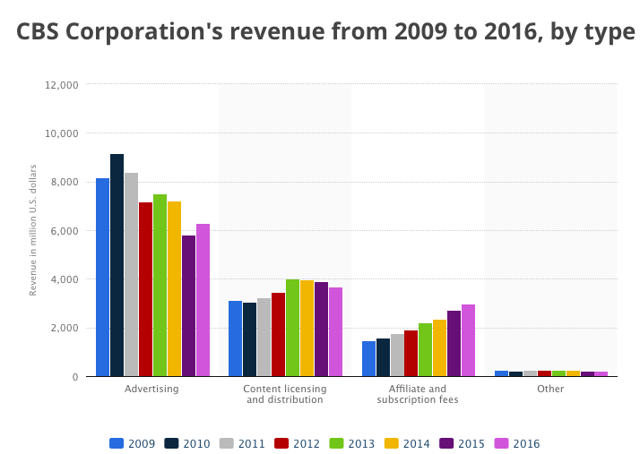 (Source: Statista.com)
Furthermore, Netflix has essentially branded itself to its subscribers as an ad-free service. If the company were to introducing advertising, whether in the middle of videos or on side panels, it might be extremely disruptive to its current subscriber base. By focusing on massive market penetration and growth with its commercial-free model, the company has possibly limited its future ability to access an extremely profitable revenue stream.
Other competitors will also threaten Netflix's future subscriber growth and its current subscriber base. While its market penetration has been impressive, companies such as Facebook have penetrated the wider U.S. market to a far more comprehensive degree.
As an example, the recent release of "Facebook TV" and a "Watch" tab as a content streaming on-demand service for original content remains extremely uncertain, but with a highly devastating potential for Netflix due to its incredible ease of access through the Facebook interface and already existing massive domestic and international user base.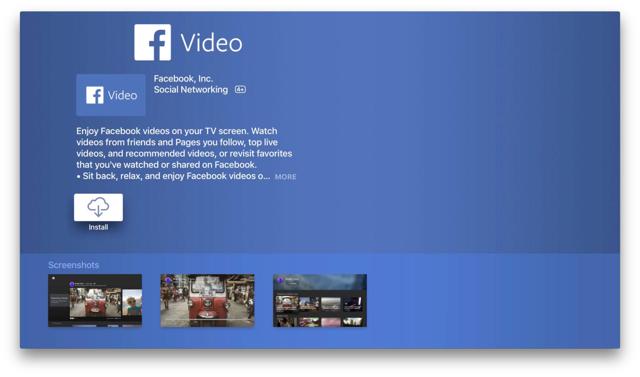 (Source: The Verge)
With over 200 million Facebook users in the U.S. and 2 billion worldwide, if even a small sliver begin using Facebook Watch and Facebook TV, that could devastate Netflix's user base.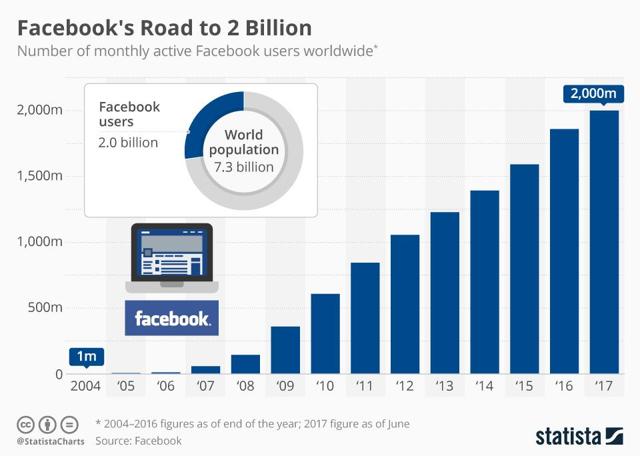 And Facebook is only one of the serious competitors Netflix now faces. Other companies such as Google (through various new YouTube variants), Disney, Apple (with its own still-secretive plans), and even cable TV news networks have announced similar services and plans.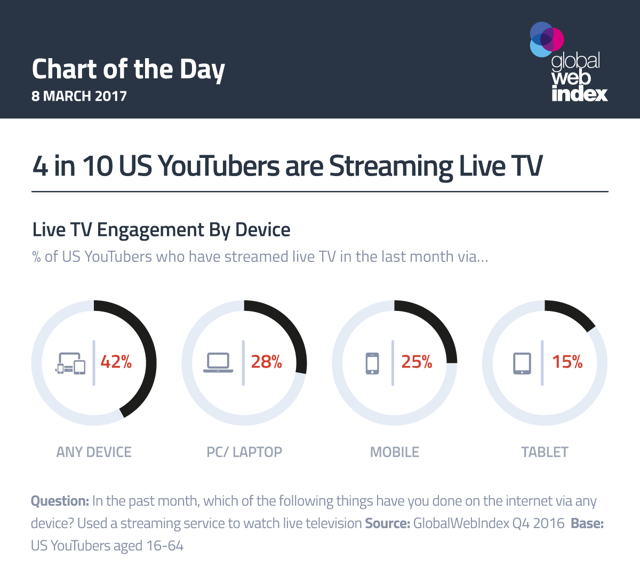 While undoubtedly many of those will flounder and fail, it appears Netflix is no longer alone in the world of on-demand Internet content streaming.
With the company having hit apparent saturation in the U.S. market, and with limited revenue growth options there besides raising subscription prices, it looks like market share might actually go down as subscribers peel off to these new content services.
III. Conclusion
As I've identified, I believe Netflix's 240+ P/E ratio and sky-high expectations are unjustified given the competitive risks the company faces and the business model problems it appears to have not successfully gotten itself out of yet.
Essentially, Netflix has dominated the U.S. subscriber market relatively easily the past few years as other major media conglomerates and tech giants have avoided the space or avoided monetizing it. Now that is rapidly changing, as every media, film, and Internet giant is beginning to release its own subscription-based streaming service or offer content on demand. As this increases, Netflix not only may face higher costs for content acquisition (its costs appear to only be increasing on that front), but also increased difficulty in expanding its subscriber base, let alone holding onto current subscribers.
Furthermore, by avoiding advertising entirely, the company has pigeonholed itself into a very limiting position from a revenue standpoint. With a negative cash flow that has shown little sign of changing, all this bodes significantly worry for Netflix's future in the upcoming 2-3 years as other content streaming services launch and build their own markets as well.
How long the Netflix euphoria continues remains uncertain, but eventually the gravity of its fundamentals and the upcoming changing content streaming environment is bound to drag it down.
Disclosure: I/we have no positions in any stocks mentioned, and no plans to initiate any positions within the next 72 hours.
I wrote this article myself, and it expresses my own opinions. I am not receiving compensation for it (other than from Seeking Alpha). I have no business relationship with any company whose stock is mentioned in this article.
About this article:ExpandAuthor payment: $35 + $0.01/page view. Authors of PRO articles receive a minimum guaranteed payment of $150-500.Tagged: Investing Ideas, Short Ideas, Services, Music & Video StoresWant to share your opinion on this article? Add a comment.Disagree with this article? Submit your own.To report a factual error in this article, click here