Editor's note: Seeking Alpha is proud to welcome Quantrarian as a new contributor. It's easy to become a Seeking Alpha contributor and earn money for your best investment ideas. Active contributors also get free access to the SA PRO archive. Click here to find out more 禄
Working Capital and Cash flow
Throughout its history, Tesla has always maintained a positive (or at least level) working capital balance. Whenever they have come close to going negative (or gone marginally negative), they have always raised new capital to bring their position back to positive. This financing has become more pronounced over time, as their cash outflows have continued to accelerate. Yet in Q4 2017, and continuing in Q1 2018, Teslas working capital went seriously negative for the first time ever.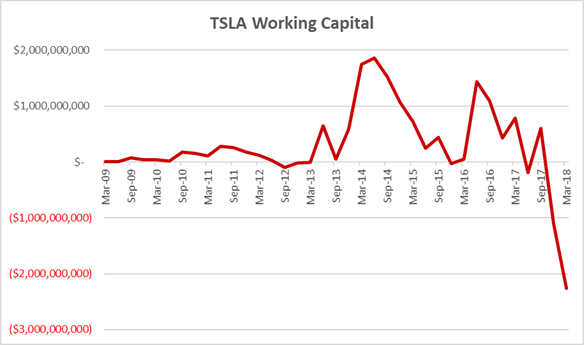 Source: SEC filings.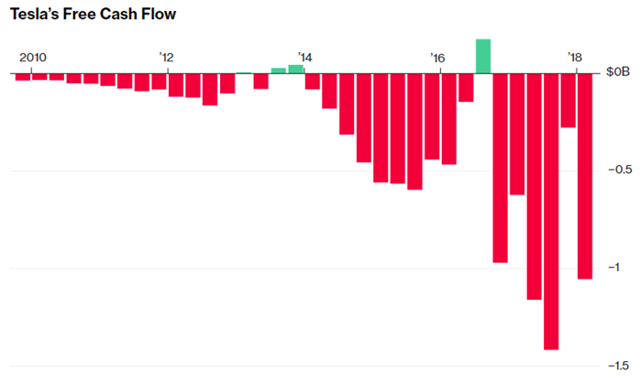 Source: Bloomberg
From this we can conclude one of 2 things:
Either Tesla has decided, for the first time in its history, that negative working capital is not a problem, or they have finally reached a point where they cannot raise new capital at acceptable terms (or at all).
A pattern of more restrictive Capital Raises
In Q2 2016, Tesla raises $1.4B of common equity.
In Q1 2017, they issue additional capital, but this time it is only a bit of common equity ($350M) and the bulk of the offering is in convertible debt ($850M) with an attractive conversion price ($327/share).
In Q3 2017, they raise additional capital, but even though the share price is around all-time-highs, they dont issue equity, or convertibles, but instead unsecured senior debt, for $1.8B at a high interest rate (5.3%).
In Q4 2017, there is no capital raise, and working capital goes seriously negative for the first time, to -$1.1B.
In Q1 2018, despite claiming that no capital raises are required, Tesla does raise additional capital. This time, it is not equity, or convertibles, or even unsecured debt, but securitised lease payments, for $550M.
Despite this additional financing, working capital declines even further, to -$2.25B.
Equity, then convertibles, then unsecured bonds, then secured bonds.
At each additional round of new capital, the terms get worse and the capital more restrictive. The fact that Tesla is raising capital that harms their cash flow and balance sheet, as opposed to equity or even convertibles with a low interest rate, suggests that the capital markets may be unwilling to take further risks on the company, and may be demanding more and more restrictive terms in order to do so.
Musk Meltdown on Capital Requirements
On the Q1 2018 conference call, Adam Jonas from Morgan Stanley asked Musk about his claims that Tesla doesnt require additional capital in 2018:
Adam Michael Jonas Morgan Stanley, Research Division – MD
Elon, so you repeatedly said, I think, in recent weeks that you do not need to issue equity capital at Tesla. I think many investors on this call would say it's better to raise capital when you don't need to. So I guess first question is…
Elon R. Musk Tesla, Inc. – Co-Founder, Chairman, CEO & Product Architect
I disagree.
Adam Michael Jonas
Yes. You may not need to, but do you want to?
Elon R. Musk
No. I specifically don't want to.
[A few questions later]
Antonio M. Sacconaghi – Sanford C. Bernstein & Co. LLC
And so where specifically will you be in terms of capital requirements?
Elon Reeve Musk – Tesla, Inc.
Excuse me. Next. Boring bonehead questions are not cool. Next?
Joseph Spak – RBC Capital Markets LLC
[Paraphrasing] Of the reservations invited to configure, what percentage are actually configuring?
[15 seconds of silence]
Elon Reeve Musk – Tesla, Inc.
We're going to go to YouTube. Sorry. These questions are so dry. They're killing me.
So, not only does Tesla not need capital, but musk emphatically doesn't even want more capital either. This despite Tesla's deteriorating balance sheet, negative working capital, -$1.1B/quarter in free cash flow, and a debt downgrade from Moodys that specifically cited their near-term need to raise more capital.
And being questioned about those capital requirements set Musk off on his well-publicised "meltdown".
Extraordinary measures to reduce cash outflows
Just in the past quarter, Tesla reduced 2018 capex guidance by half a Billion Dollars, saying (emphasis mine):
We have significantly cut back our capex projections by focusing on the critical near-term needs that benefit us primarily in the next couple of years.
Source: Q1 2018 Update Letter
Earlier, in a leaked internal memo, Musk announced to the company that (emphasis mine):
All capital or other expenditures above a million dollars, or where a set of related expenses may accumulate to a million dollars over the next 12 months, should be considered on hold until explicitly approved by me.
And just this last weekend (5th May), there was a leaked memo from Musk stating that all contractors would be fired that Monday morning, unless a Tesla employee personally vouched for the necessity of their employment.
This sudden and abrupt change suggests that Tesla may now be facing a critical cash situation and is delaying, deferring and cancelling any expenses that are not absolutely critical to the current M3 ramp, including all capex for future projects (Semi, Roadster, Y, Pickup, China Factory etc.).
What can we deduce from this?
To me, this all suggests one of 2 things.
Option 1:
Tesla knows that it is about to produce massive positive cash flow in the very near future, enough to cover their working capital deficit, $1.2B in maturing debt, this years discretionary capex and enough to maintain the confidence of their suppliers and vendors who are being stretched further and further on payments, and their bondholders and the ratings agencies who, judging by the downgrades and deteriorating bond prices, are getting more nervous by the week.
And enough that Musk feels he doesn't need the goodwill of Wall Street analysts who work for the banks that would have to underwrite any new capital raise.
The reduced capex, cancelled expenses and mass firing of contractors is merely because Tesla was incredibly profligate (or incompetent, take your pick) in the past and is now cleaning house.
Or, Option 2:
Tesla desperately needs new capital. If for no other reason than carrying so little cash & assets relative to their cash flow and liabilities leaves them at the mercy of market confidence. But they have found that the capital markets have no appetite for more unsecured capital (equity, convertibles, debt or otherwise). And with no other securitisable income streams, and their material collateral pledged to their ABL credit line, they have no unencumbered assets left with which to raise secured capital.
So they are going to drastic measures to reduce near-term cash burn, even at the cost of their future growth, and are forced to pretend that they simply dont need or want the capital, rather than admit that until they can show positive cash flow and (long-promised) profitability, the capital markets are effectively closed to them.
Could this mean Tesla is bankrupt?
Not necessarily.
Tesla had $2.7B in cash at the end of Q1 and Bill Cunningham produced an excellent article last month laying out the many and varied levers Tesla can pull to access additional cash this year.
Assuming their cash flow position improves as claimed, and their suppliers continue to accept delayed payments, Tesla probably does have enough cash to make it through to the end of 2018. Additionally, Musk has shown an incredible ability to raise cash and investments from unexpected sources in the past, and it would be foolish to discount the possibility that he can continue to do so.
All that being said, Tesla is increasingly vulnerable to a liquidity event. As their cash and balance sheet continue to deteriorate, their position becomes more precarious with every passing week.
For instance, if M3 production disappoints in June and cash burn continues at anything like the current pace, might Moodys act on their negative debt outlook and downgrade Tesla again, to just a single notch above a bankruptcy petition filing? If Tesla has just $2B in cash at that point, working capital of -$3B, and their suppliers and creditors start restricting credit terms, would the company be able to survive?
Conclusion
There is strong evidence that Tesla is currently unable to raise capital except on highly restrictive terms, effectively shutting them off from any new capital raise.
If the M3 ramp doesnt execute perfectly, and they dont find a capital source soon, their liquidity position becomes susceptible to a sudden decline in confidence.
Musks outbursts on the conference call suggest that he may be under incredible stress, especially when it comes to Tesla's capital requirements. Coupled with the drastic measures to reduce expenses, the situation may be far more precarious than Tesla is letting on.
Disclosure: I am/we are short TSLA.
I wrote this article myself, and it expresses my own opinions. I am not receiving compensation for it (other than from Seeking Alpha). I have no business relationship with any company whose stock is mentioned in this article.
Additional disclosure: I am short via Jun 18 and Jan 19 deep OTM Puts. Despite the implied odds increasing materially in Q1, I think the possibility of default is still being shockingly mis-priced.