You should buy Bitcoin now even if you think it's a terrible investment.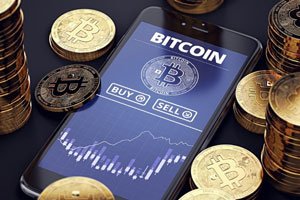 If Bitcoin goes to zero, and she loses it all, it's only a 4% loss against her total holdings. Her stocks, if they slightly beat the S&P 500 Index, would have gained about 20%. That would leave her with $28,800 on Dec. 31 – more than what she started with despite the Bitcoin loss.
But as we know, that's not what happened. Our hypothetical investor would have gained $13,250 on her Bitcoin investment, turning her $1,000 into $14,250. Including her stock gains, her portfolio is worth $43,050 – an increase of $18,050, for an eye-popping, one-year gain of 72.2%.
That's why both Moas and Pfeffer view buying Bitcoin as worth the risk – provided you don't go overboard.
That means restricting your Bitcoin investment to less than 5% of your portfolio. So don't dump everything you own and go all in on Bitcoin, and don't use money earmarked for other purposes (your child's college fund).
And most definitely do not risk capital you don't have. So no borrowing to buy Bitcoin, either. The best rule of thumb is to risk only what you can afford to lose.
Remember the Wall Street adage: Pigs get fat, hogs get slaughtered.
It's also worth mentioning that, unlike stocks, you don't have to buy whole bitcoins. As a digital currency, Bitcoin is divisible down to eight decimal places. You can buy any dollar amount you want.
Free stuff: Money Morning knows cryptocurrencies. We've been writing about them since 2011, far longer than most other news sites. To get 100% free, real-time alerts sent to your inbox, sign uphere.
That leaves the question of whether it's too late to buy Bitcoin. What kind of gains can an investor possibly expect from here?
It's very likely Bitcoin has realized only a fraction of its potential…
Why the Bitcoin Price Could Go Five Times Higher in 2018
Join the conversation. Click here to jump to comments…