A big reason that Twitter (TWTR) is in turnaround mode was the move last year to increasingly focus on what the social site is good at and not try to be another social network. The focus on breaking news and live video has let the service shift the focus onto the influential aspect of the user base.
The stock continues to fight the recent weakness in the technology sector highlighting the turnaround. Some of the original gains for Thursday were claimed due to a bullish note by an analyst from Odeon Capital, but the reality is that market is becoming more comfortable that Twitter has a stronger future due to some of these strong metrics.
Influential Metrics
According to an eMarketer report last week, Twitter tied Instagram, owned by Facebook (FB), as the most influential social media platform in the U.S. The platform actually beat out YouTube owned by Alphabet (GOOG) (NASDAQ:GOOGL) and easily smashed Facebook for its influence on purchases.
Most notably, Twitter was at least 85% influential in all categories. The other platforms all had categories of strength offset by those that dipped below 80%.
On top of this eMarketer report, Adweek posted an article with information suggesting that Twitter is even more influential surrounding brands. The data shows that users are 45% more likely to post about brands and 31% more likely to convince other social media users of their opinions.
Twitter already has used this information to advance the interaction around live video. The original Thursday Night NFL games were characterized by random discussions surrounding the game and now the social media site offers a category for "Top Commentary" so that users can see the comments from only influencers.
Will Ad Rates Follow?
The next step will come with ad revenue growth. Twitter already is mirroring user growth to grab a vast list of live video shows including two upcoming 24/7 networks. The combination of growth in live video and users will usher a return to revenue growth.
The real turning point could be a reversal of the negative ad rate trends. Twitter has cut rates in order to induce advertisers to remain on the social media platform as the site struggled with user growth. Even minimal growth in rates over the second half will provide a boost to revenues after a 63% hit to costs per ad engagement during Q1.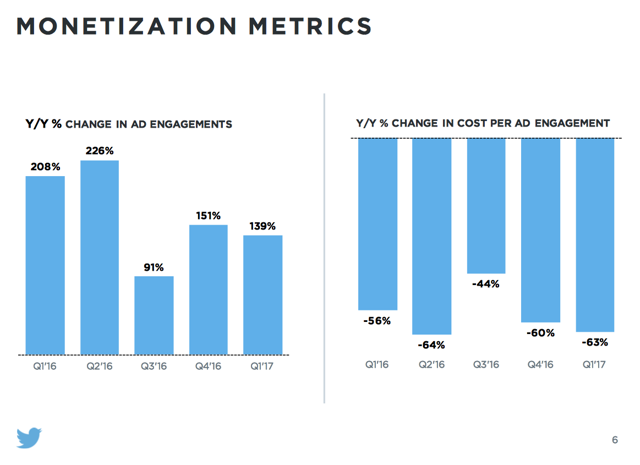 Source: Twitter Q1'17 presentation
Why this matters to investors is that the market is underestimating the rebound. The average analyst revenue estimate for 2018 is only $2.45 billion on about 5% growth leaving revenue forecasts still below the 2016 levels of $2.53 billion.
Twitter is only forecast to generate revenue of about $7.50 per user while Facebook is expected to reach nearly $19.50 per user this year. In theory, a more influential and brand centric user base is more valuable though the size of Facebook does have some advantages as well.
The long-term reason to own the stock is that as Twitter ramps up the user base that reached 328 million at the end of Q1, the social media site has the potential to grow monetization dramatically. With a market cap of $13 billion, the market isn't convinced, but a user base eventually reaching 500 million combined with the same revenue metrics as Facebook leads to a much more valuable stock.
Maybe 500 million users turns out aggressive, but Twitter is now generating faster growth each quarter and live video will only help expand the base.
Takeaway
The key investor takeaway is that Twitter is starting to shine in metrics that will return advertisers to the platform. The influential user base should help the site start increasing ad rates again that will accelerate the return to revenue growth already slated to occur due to user growth.
Twitter should continue to outperform the general tech sector.
Disclosure: I am/we are long TWTR.
I wrote this article myself, and it expresses my own opinions. I am not receiving compensation for it (other than from Seeking Alpha). I have no business relationship with any company whose stock is mentioned in this article.
Additional disclosure: The information contained herein is for informational purposes only. Nothing in this article should be taken as a solicitation to purchase or sell securities. Before buying or selling any stock you should do your own research and reach your own conclusion or consult a financial advisor. Investing includes risks, including loss of principal.
About this article:ExpandAuthor payment: $35 + $0.01/page view. Authors of PRO articles receive a minimum guaranteed payment of $150-500.Tagged: Investing Ideas, Long Ideas, Technology, Internet Information ProvidersWant to share your opinion on this article? Add a comment.Disagree with this article? Submit your own.To report a factual error in this article, click hereFollow Stone Fox Capital and get email alerts