TransCanada (NYSE: TRP) is a $42 billion North American oil company headquartered in Calgary, Alberta that develops energy infrastructure. As we will see throughout this article, TransCanadas significant history of returns, combined with a growing market, and the companys growth projects means the companys current yield of more than 4% will continue to grow providing investors strong cash flow.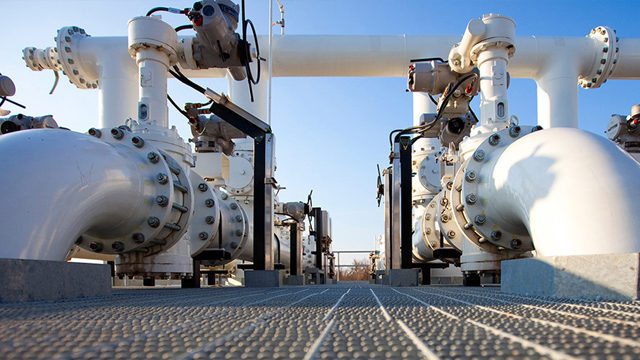 TransCanada Pipeline – TransCanada
TransCanada Significant History
TransCanada has invested $75 billion since 2000 increasing its value significantly.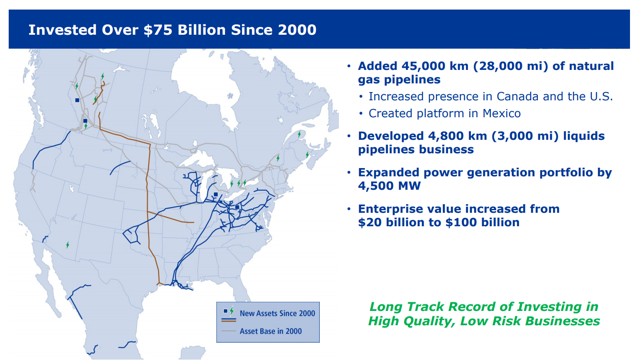 TransCanada Investments – TransCanada Investor Presentation
TransCanadas investments since 2000 have resulted in more than 28 thousand miles of natural gas pipelines and 3000 miles of liquids pipelines. One of the most significant side effects of this investment is the company has created a presence in Mexico. Mexico has a significant population and a growing economy which will increase oil consumption in the coming years. That will require new pipelines.
TransCanadas new presence in Mexico and significant size will allow it to take advantage of this growth in the coming years.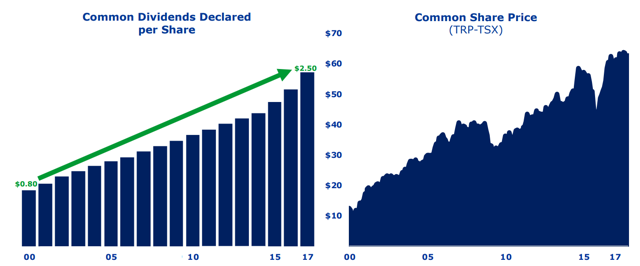 TransCanada Dividend Per Share – TransCanada Investor Presentation
Over the past 17 years, TransCanada has increased its dividend per share by 315% from $0.80 per share to $2.50 per share. This steady growth shows a strong commitment to rewarding shareholders that provides support for the companys current yield of more than 4% continuing its growth. At the same time, the companys share price has gone up by 500% providing shareholders with a strong capital reward.
However, its important to take into account that TransCanada is a pipeline company that has steady fee-based cash flow. The company rewards shareholders with this cash flow. As a result, the companys growth over the past 17 years, not only has it been incredibly significant but its been steady realistic growth. That is one of the stronger signs that this growth can continue in the coming years.
TransCanada Growing Market
Not only does TransCanada have a strong history of growth, but that growth should continue in the growing market that TransCanada operates in.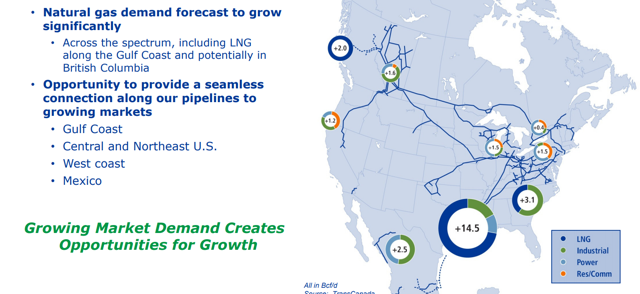 TransCanada Growing Demand – TransCanada Investor Presentation
Reserves estimates for natural gas in the United States have increased significantly and that, combined with a push towards cleaner energy, will result in significant natural gas demand growth across the country including in Canada and Mexico. TransCanada is already afforded a strong position from its existing pipeline network and will be able to make seamless connections into this network growing this size.
Namely, there will be a significant opportunity for building pipelines in the south and southeast. TransCanada already has significant assets in this region and will be able to make integrations to significantly grow its cash flow and profits.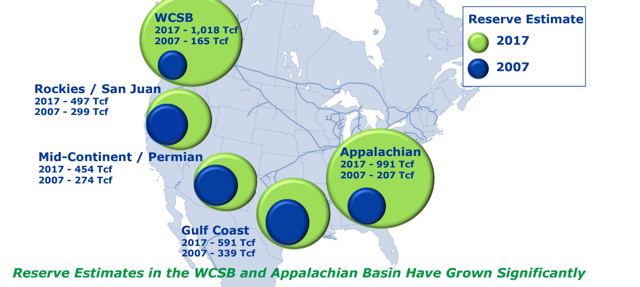 TransCanada Reserve Growth – TransCanada Investor Presentation
On top of this growth in demand, natural gas reserves in the United States have increased significantly in the past decade, especially in the Appalachian and Western Canada regions. These massive reserves will be produced, especially as governments in the United States and Canada place a significant importance on energy security. Significant portions of these reserves are far from major population centers.
As a result not only will infrastructure need to be created for regions of high demand, they will need to be created from areas of massive reserves connecting to these regions of high demand. These are opportunities to create massive pipelines on the scale of the almost $10 billion Keystone Pipeline that move billions of cubic feet of natural gas per day. That will bring TransCanada significant steady earnings growth.
TransCanada Growth Projects
TransCanada has a strong history of growth and operates in a growing environment. That combined with the companys massive plan for growth projects means the companys revenues and dividend potential will rapidly increase in the coming years.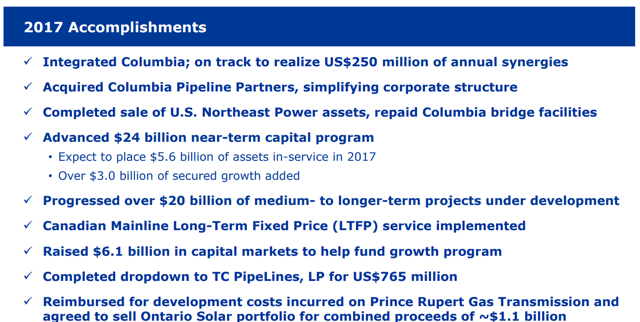 TransCanada 2017 Accomplishments – TransCanada Investor Presentation
In 2017, TransCanada integrated its acquisition of Columbia Pipeline Group, a $13 billion acquisition that significantly increased the size of TransCanada. The company has realized $0.25 billion in synergies so far, significantly decreasing TransCanadas costs. The company has also completed some asset sales and is working on advancing its $24 billion capital program.
That massive capital program will bring the company billions in additional profits, enough annual profits for the company to continue its expansion and more than double its dividend should it choose too. The company has also maintained a long-term fixed price service which should increase the reliability of the companys revenues. This should help increase the reliability of the companys dividends.
TransCanada is also continuing dropdowns to TC Pipelines, its dropdown partner. That means the company can develop a project and drop it down at some profit. Those immediate profits for TransCanada will help the company continue growth.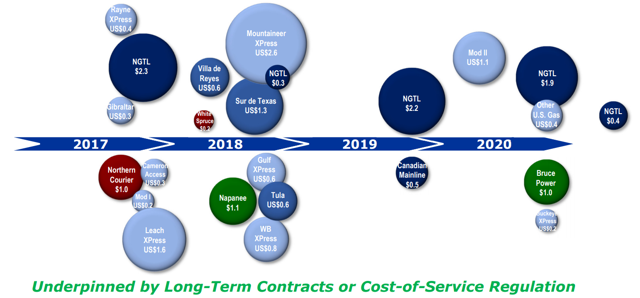 TransCanada $24 Billion Growth Projects – TransCanada Investor Presentation
From a growth perspective, TransCanada anticipates that it will bring on $24 billion of growth projects by 2020. That is a massive amount of growth projects, a significant portion of which should actually come online by year-end 2018. These projects are supported with long-term contracts that TransCanada can use to support its dividend going forward.
Given recent dividend growth, I dont think it would be surprising to see TransCanadas dividend reach upwards of $3.00 by 2020.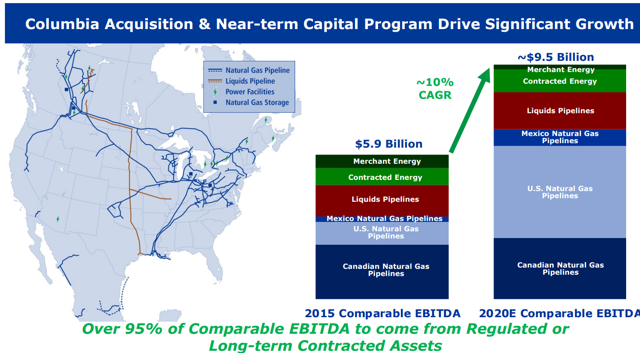 TransCanada EBITDA Growth – TransCanada Investor Presentation
Overall, as a result of these things, TransCanada anticipates that its comparable EBITDA will grow by double digits annually from $5.9 billion in 2015 to $9.5 billion by 2020E. A significant portion of that growth will come from U.S. natural gas pipelines in the next year or so with the majority of this coming from long-term contracts.
That growth will allow the companys dividend to continue increasing by double-digits annually. For investors willing to hold on to their stock for the next decade or so, should the company continue its policy of increasing its dividend, you could eventually grow and reach a double digit yield on cost. Not bad for a company with fairly minimal risk to its growth plan.

TransCanada Medium Term Growth Projects – TransCanada Investor Presentation
On top of these $24 billion in growth projects coming online in the near term, TransCanada has another $20 billion in medium to long-term projects, more than half of which comes from the Keystone XL and Coastal GasLink projects. The company also anticipates that it will spend $5.3 billion in the Bruce Power Life Extension after 2020 which will extend the facilities operating life to 2064.
That extension in the operating life will mean continued reliable cash flow for shareholders.
Conclusion
TransCanada has done well recently and the acquisition of Columbia Pipeline Partners increases the companys size noticeably. The company has an impressive history of increasing its dividends and enterprise value and has rewarded shareholders incredibly well in the past decade. However, those rewards should continue to grow in the coming decades.
The natural gas market is anticipated to grow rapidly in the coming decades and that will require new pipelines to transport. TransCanada has an astounding $24 billion of projects until 2020 and $20 billion after that, almost equal to the companys current market cap. That size should allow the company to increase its dividend and earnings going forward, making it a good investment.
Disclosure: I am/we are long TRP.
I wrote this article myself, and it expresses my own opinions. I am not receiving compensation for it (other than from Seeking Alpha). I have no business relationship with any company whose stock is mentioned in this article.
About this article:ExpandAuthor payment: $35 + $0.01/page view. Authors of PRO articles receive a minimum guaranteed payment of $150-500.Tagged: Investing Ideas, Long Ideas, Utilities, Gas Utilities, CanadaWant to share your opinion on this article? Add a comment.Disagree with this article? Submit your own.To report a factual error in this article, click here