Diesel is dead. Welcome to the future: electric propulsion.
The Tesla (TSLA) Semi was revealed last night. Production is planned for 2019. It is superior to diesel trucks on cost and safety. The Semi has enough range and charging speed that any more would be superfluous. For practical purposes, its range is unlimited because more range and faster charging would not allow the truck to drive any more miles.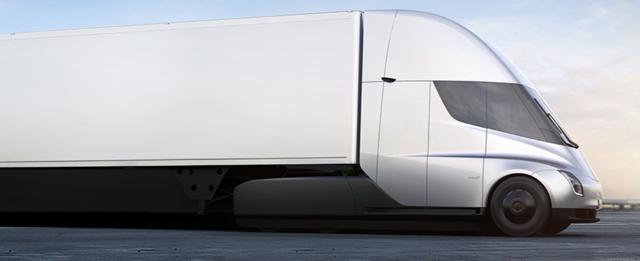 The Tesla Semi, in all its glory. Source: Tesla.
Cost: 17% to 47% lower than diesel trucks
Tesla estimates its total cost per mile is 17% lower than a diesel semi truck. This figure lines up exactly with independent research conducted by ARK Invest, which estimates a 18% reduction in cost per mile from electric propulsion.
The Tesla Semi has the capability to operate in convoy mode. That means a driverless Semi locks on to the back of a human-driven Semi using cameras and radar (and perhaps other sensors), and other driverless Semi locks on to the back of that Semi, and so on. A wireless connection between two Semis functions like a physical coupling between rail cars. In convoy mode, Tesla estimates the cost per mile is 47% less than a diesel semi truck.
This figure also lines up with independent numbers. Driver compensation accounts for 39% of the cost per mile of a semi truck. Spreading that cost across four Tesla Semis would cut the cost per mile by 26%. Combined with the 17% cost savings of electric propulsion, thats a 46% cost reduction. Teslas math checks out.
Range: essentially unlimited
The Semi has 500 miles of range. With a Tesla Megacharger, it can charge 400 miles of range in 30 minutes. This makes range a non-issue. Let me explain.
In the U.S. and the European Union, the maximum distance that a semi truck driver could legally drive in a day is 660 miles. Thats because in the U.S. truck drivers can only drive 11 hours out of any 24-hour period, and only 10 hours in the EU. At an average speed of at most 60 mph, a truck driver will cover 660 miles over 11 hours of driving. You with me so far? 660 miles is the daily maximum.
U.S. regulations mandate that truck drivers take a 30-minute break after 8 hours of consecutive driving. Thats 480 miles. Remember, the Tesla Semi has 500 miles of range. After 480 miles, the driver has to stop for 30 minutes. 30 minutes of Megacharging gives 400 miles of range, bringing the total charge up from 20 miles to 420 miles. Thats 920 miles of charge for the day, much more than can actually be used. With a Megacharger stop en route, range is essentially unlimited.
EU regulations are even more aggressive. They mandate a 45-minute break after 4.5 consecutive hours of driving.
One of the new Supercharger stations is like a truck stop, giving us an indication of what Tesla might have in mind for its Megacharger stations, designed just for truck drivers. Tesla wants to make its Supercharger stations places where Model S, X, and 3 owners will want to stop, with food, coffee, and bathrooms. It would make perfect sense Megacharger stations to have the same amenities or more, much like a traditional truck stop.
Even in the complete absence of Megacharger stations, the Tesla Semi is a viable product. In the U.S., almost 80% of freight shipments are under 500 miles. In brief, range is a solved problem.
Tesla Semi exterior and interior. Source: Tesla on Instagram.
Safety: better than diesel trucks
Truck driving is one of the most dangerous jobs in developed countries. Safety is therefore one of the top priorities of truck drivers, and plausibly a factor in the shortage of truck drivers in North America. The Tesla Semis safety features may help trucking companies retain more drivers. (Even if not, convoy mode can be used to help make up for the shortfall.)
Teslas Enhanced Autopilot software comes standard. Due to the battery packs position at the bottom of the vehicle, the centre of gravity is low and therefore a rollover is unlikely just like with the Model S, X, and 3. This passive safety feature is intrinsic to electric vehicles and cant be replicated by a diesel truck.
Tesla has also designed a system to prevent jack-knifing. Each wheel is controlled by an independent electric motor. This means acceleration and braking can be applied to each wheel independently, allowing the Semi to be automatically stabilized when its at risk of jack-knifing.
Competition: none yet
As of today, no direct competition to the Tesla Semi has been announced. Daimlers (OTCPK:DDAIF) electric truck, planned for 2021, has less than half the range and about 1/4 the carrying capacity. Its for intra-city trips, not long hauls. Electric trucks from Cummins (CMI), Mercedes-Benz, and BYD (OTCPK:BYDDY) are much the same.
Utah-based startup Nikola Motors is planning to release a hydrogen-electric truck in 2021. For passenger vehicles, hydrogen fuel costs 6.7x as much as electricity. Building hydrogen fuelling stations costs 7.4x as much as building Supercharger stations. If the economics for freight trucks are similar, then the cost per mile of Nikola Motors hydrogen-electric truck will not be competitive with the Tesla Semi.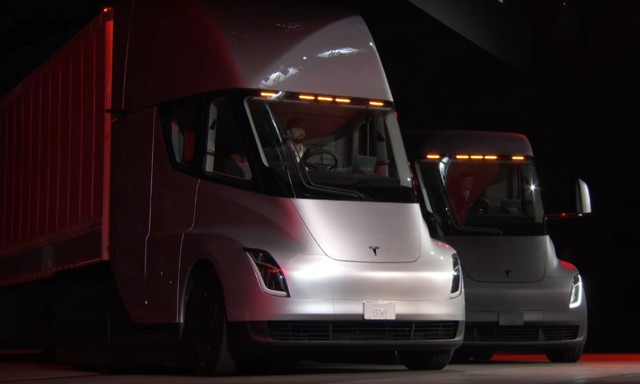 Source: Tesla livestream.
Financial impact
Seeking Alpha writer Galileo Russell has noted that if Tesla captures 20% of the revenue from U.S. semi truck sales, it will gain $8 billion in annual revenue. At the S&P 500s historical average price-to-sales ratio of 1.46, $8 billion in revenue would add $11.7 billion to Teslas market cap. Thats an 18% increase from its all-time high of $63.6 billion.
Given the superior economics and safety of the Tesla Semi, plus the lack of any practical constraint due to range or charging speed, and the lack of direct competition, its not unreasonable to venture that Teslas market share could be much higher. Why not 40%? After all, Teslas Model S has a market share of over 30% in its segment, and thats in a luxury market where the cost per mile matters a lot less.
At a 40% share of U.S. semi truck sales revenue, Tesla would generate $16 billion in annual revenue from the Semi. At a price-to-sales ratio of 1.46, that would add $23.4 billion in market cap: a 37% increase from Teslas all-time high. Thats just from U.S. sales. Globally, the opportunity is even larger.
Tesla has built about 1,000 Supercharger stations in North America at a cost of about $270,000 per station, or $270 million total. Megacharger stations will probably be more expensive to build, given the greater charging needs and the desire for truck stop amenities. However, since they are servicing a smaller fleet of vehicles, there can be fewer of them. Given the size of the opportunity, the cost is worthwhile.
Conclusion
The Semi is Tesla at its best: first principles analysis applied to engineering and business. For a few years at least, Tesla can run away with the semi truck market, prompting competitors to copy their product or just move faster.
Ultimately, the opportunity is even larger than vehicle sales. With full autonomy, Tesla can launch the Tesla Freight Network and turn freight transportation into a service.
For now, the Semi represents a considerable growth opportunity for Tesla. The challenge, as with the Model 3, will simply be building the thing on time, up to specs, and at a healthy gross margin.
Disclosure: I am/we are long TSLA.
I wrote this article myself, and it expresses my own opinions. I am not receiving compensation for it (other than from Seeking Alpha). I have no business relationship with any company whose stock is mentioned in this article.
About this article:ExpandAuthor payment: $35 + $0.01/page view. Authors of PRO articles receive a minimum guaranteed payment of $150-500.Tagged: Investing Ideas, Long Ideas, Consumer Goods, Auto Manufacturers – MajorWant to share your opinion on this article? Add a comment.Disagree with this article? Submit your own.To report a factual error in this article, click here