U.S. equities finished mixed on Wednesday ahead of the long Thanksgiving holiday. Markets are closed Thursday and the New York Stock Exchange will close early on Friday. In the stock market today, the Dow Jones Industrial Average lost 0.3%, the S&P 500 gave back 0.1% the Nasdaq Composite added 0.1% and the Russell 2000 dropped 14 basis points.
What's more: Treasury bonds strengthened, the dollar was under pressure, gold gained 0.8% and crude oil gained 2.1% with a focus on inventory data and reports of a nine-month extension to the OPEC freeze deal.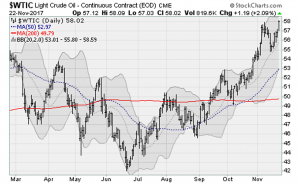 Click to Enlarge It seems farfetched right now, I know, with stocks continuing to melt to new highs with nary a care in the world. Big Tech stocks like Amazon (AMZN) and Apple (AAPL) are going vertical out of their late October lows.
The Federal Reserve's rate hikes have yet to bite the real economy. And there remains the specter of a fiscal stimulus push from the tax cut legislation working through Congress.
And yet, some on Wall Street are sounding the alarm. Bank of America Merrill Lynch chief investment strategist Michael Hartnett, in a note to clients this week, believes it will all end within the next seven months forecasting "The Big Top" in the first half of 2018 as "the last flames of [quantitative easing], U.S. tax reform and robust [earnings growth] force everyone still skeptical into the market."
He's dubbed it the "Icarus Trade" and acknowledges that the air is, indeed, getting thin up here.
The catalyst for the eventual top will be the reappearance of inflation pressure, which will be a "game changer" for this era of central bank largesse that shatters the "Goldilocks consensus" that weak growth is good (since it means more monetary stimulus) and strong growth is good (since rates will remain low anyway).
The consequence? An end to the current 50-year low in stock market volatility and the 30-year low in bond market volatility with a "flash crash" in the vain of 1987, 1994 and 1998 episodes.
Today's Trading Landscape
To see a list of the companies reporting earnings today, click here.
For a list of this week's economic reports due out, click here.
Anthony Mirhaydari is the founder of the Edge (ETFs) and Edge Pro (Options) investment advisory newsletters. Free two- and four-week trial offers have been extended to InvestorPlace readers.