This analysis will show why we think OpenText (OTEX) is one of the few undervalued companies in the technology sector. Per the fiscal 2017 annual report, OpenText made progress expanding into the enterprise information management such that the company sees a total addressable market size of $35 billion. Given the overall market size and associated need of enterprise information management, OpenText expects to have long-term strategic flexibility with attractive options to grow the business. OpenText's software assists organizations with efficiently finding, utilizing, and sharing business information to improve productivity. The company also provides solutions that facilitate the exchange of information and transactions between supply chain participants such as manufacturers, retailers, distributors, and financial institutions. By unlocking massive amounts of data, OpenText helps its customers gain better insight into their business to improve decision making. The company offers solutions for almost every industry and its software offerings integrate with most of the main business software providers such as SAP (SAP), Microsoft (MSFT), Oracle (ORCL), and SalesForce (CRM). The company plans to mainly fuel growth through M&A. The company has already closed 57 acquisitions including ANX, HP CEM, Recommind, HP CCM, and the enterprise content division of Dell-EMC in fiscal 2017. In fiscal 2018, the company acquired Covisant and announced the intention of acquiring Guidance software, an information forensics company that will strengthen OpenText's eDiscovery offerings. Electronic discovery or eDiscovery refers to finding and securing electronic data in order to search it for use as evidence in legal cases. One thing to note about the Guidance acquisition is that in addition to diversifying OpenText's offerings via eDiscovery tools, Guidance Software also comes with a customer list that includes 78 of the Fortune 100 companies, per the Guidance website.
Diversification in OpenText's Product Offerings
Speaking of diversification, we should touch on the main segments covered by OpenText's software offerings. The Content Services area offers solutions for things like content management, records management, and archiving. The Business Process Management segment provides software for analyzing, automating, monitoring, and optimizing structured business processes that usually fall outside of the scope of existing enterprise systems. The Customer Experience Management area improves time to market by giving customers, employees, and channel partners personalized and engaging experiences. This is done through web content management, digital asset management, customer communications management, and social software. The Discovery solutions offered by the company organize and visualize all relevant content and make it possible for business users to locate information quickly and make better decisions based on timely, contextualized information. The Business Network segment deals with offerings that facilitate efficient, secure, and compliant exchange of information inside and outside the enterprise. Finally, the Analytics solutions help organizations gain insight from their structured and unstructured information, make predictions as well as visualize and report on business processes, customer interactions, and other sources of information. Most of these services are available on-premise and increasingly through the cloud.
This high level overview is provided to show the diversification or wide array of solutions provided by OpenText. Of course, the offerings continue to be expanded and leveraged largely via the many acquisitions and some organic growth. As far as organic growth the company plans to invest about 10% of revenues in R&D each fiscal year. In its 2018 fiscal goals, the company stated it plans to broaden its reach into Enterprise Information Management, B2B Integration, Analytics Discovery, and the Cloud. One example of organic growth is the Artificial Intelligence Platform, which was showcased at the annual conference in July. The company aims to use AI to transform digital information into useful knowledge and insight for its customers. The platform is expected to be available for release in fiscal 2018.
We consider the diverse customer base to be another positive for OpenText. This diversification should be expected, given that we are talking about a company with a market cap of $8.55 billion. The customer base includes a number of the Global 10,000 organizations as well as mid-market companies and government agencies. No single customer accounted for 10% or more of revenues in fiscal 2017. The company also has partnerships with most of the prominent enterprise software companies including SAP, Microsoft, Oracle, Accenture (ACN), Deloitte Consulting, and other system integrators. Of course, OpenText does compete with these partners with some of its offerings. OpenText's main competitor is IBM (NYSE:IBM), but the company also competes with many other software vendors in niche areas such as Veeva Systems (VEEV), j2 Global (JCOM), and Pegasystems (PEGA), to name just a few.
In fiscal 2017, revenue grew for every product type including Licensing, Cloud services, Custo mer support, and Other Professional Services. Customer support, cloud services, licensing and professional services accounted for 42.8%, 30.8%, 16.1%, and 10.3% of revenues, respectively. 59.2% of revenues came from the Americas while the remaining 31.5% and 9.3% came from EMEA and Asia Pacific, respectively.
Financial Overview
The first area we want to look at is how sales have been trending. Over the past 10 years, we see pretty impressive and consistent growth in sales. The same can be said for net income per the table shown below. Click on the table to zoom in on the picture. The giant increase in net income for fiscal 2017 is a result of a one-time tax benefit associated with the reorganization of the company's worldwide subsidiaries. Therefore, this net income number is of little value, and a closer look at the net income statement is required.

Source: barchart
Sales have grown at an average annual rate of 13.70% over the last five years while EPS grew at an average annual rate of 15.55% over the same period. The real question with OpenText comes from the cash flow statement. Cash flow from operations has been fairly steady over the last five years and easily covered PPE investments. However, as mentioned above, the company achieves a large percentage of its growth via acquisitions. Potential investors need to have confidence that OpenText will continue to build on its track record of strategically identifying companies that are a good fit and then successfully integrating these acquired companies.

Source: barchart
As may be expected long-term debt has been increasing as a result of these acquisitions. Equally concerning is that the common shares outstanding count has also increased every year for the last 10 years. Of course, this dilutes the share of earnings for existing OpenText shareholders. This graph shows the negative side of growing through acquisitions rather than organically.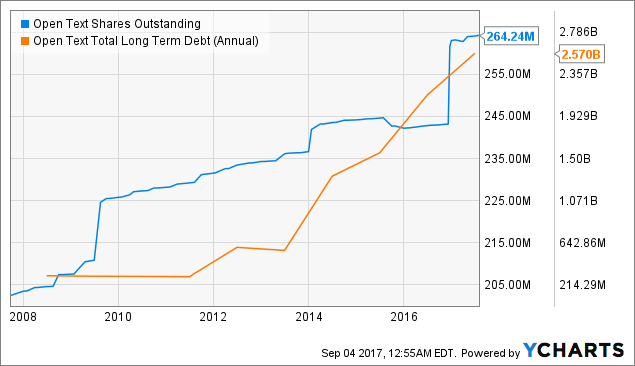 OTEX Shares Outstanding data by YCharts
Despite the negative trend seen in long-term debt and the increasing outstanding shares count, the company has performed well. As long as OpenText continues to be successful in integrating the acquired companies, the stock will continue to reward shareholders. The stock has outperformed the Nasdaq over the last five and ten-year time periods. We think this will continue to be the case, given the company's track record of strategically acquiring companies and leveraging the existing strengths within the greater organization while growing its already impressive customer base.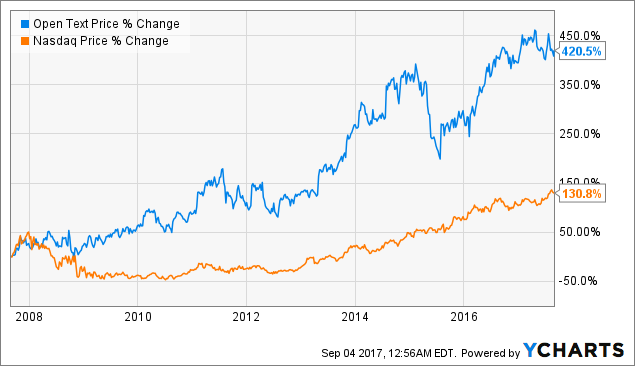 OTEX data by YCharts
Valuation
We looked at the company using a discounted cash flow model. Of course, we did not use the EPS number for the trailing 12 months, $4.17, since this would be meaningless given it incorporates a large one-time tax benefit for fiscal 2017. Instead, we used the lowest of 15 analyst estimates for fiscal 2018 EPS, $2.30. If we assume a PE ratio of 15 five years from now, OpenText could have a future annual growth rate of less than half the average analyst estimate of 15% for the next five years, and the discounted cash flow model would still show the company as being undervalued at the current price. Keep in mind that the company grew sales by almost 14% per year on average over the last five years. Our valuation assumed that the company would increase its dividend at the same rate as earnings over the next five years, and we did not assume any dilution related to issuance of more shares. Both of these assumptions may not be realistic. Nonethel ess, we still view our model as conservative, given that we used the lowest analyst estimate for 2018 EPS, used a future PE of 15, a 10% discount rate, and found that a long term growth rate as low as 7% would give us a target buy price equal to the current share price. The current dividend yield is 1.63% and comes with a very comfortable payout ratio of 11.90. The table below provides a few other financial metrics and compares them to the industry averages.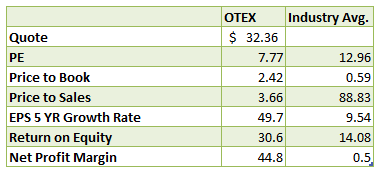 Source: Reuters
Final Thoughts
OpenText has a track record of identifying great acquisition targets, acquiring them at a fair price, and successfully integrating the acquired companies. This has resulted in a company that offers a diverse set of solutions to its growing list of customers. OpenText is one of the few cheap technology stocks in the fairly pricey market. We think the company can achieve the mean long term EPS growth rates provided by analysts which come in at 15.55. However, even if the company only grows earnings at half this rate over the next five years, which we do not think will be the case, the shares are cheap, per our DCF model discussed above. Additionally, options can be used to provide some additional income. For example, using a buy-write strategy, an investor who buys 100 shares of OpenText could choose to sell a covered call. One call an investor could sell is the one expiring on November 17th with a strike price of $35. A seller of this call would receive $35 based on the current bid and would only need to sell the shares if the stock price increases by 8.16% in the next two and a half months. If the option expires worthless the seller keeps the $35 premium which equates to about a 0.83% additional return over the holding period or an annualized return of slightly over 4 percent. Regardless of whether or not an investor chooses to use options with OpenText, we think now is a good time to initiate a position in the company, and we rate it a buy at the current price.
Disclosure: I/we have no positions in any stocks mentioned, and no plans to initiate any positions within the next 72 hours.
I wrote this article myself, and it expresses my own opinions. I am not receiving compensation for it (other than from Seeking Alpha). I have no business relationship with any company whose stock is mentioned in this article.
About this article:ExpandAuthor payment: $35 + $0.01/page view. Authors of PRO articles receive a minimum guaranteed payment of $150-500.Tagged: Investing Ideas, Long Ideas, Technology, Application Software, CanadaWant to share your opinion on this article? Add a comment.Disagree with this article? Submit your own.To report a factual error in this article, click here