HanesBrands (NYSE: HBI) stock price has come under pressure, reaching 52-week lows in the past week, which has sparked my interest to evaluate the company. HanesBrands reported revenue and earnings in-line with analyst consensus estimates for the third quarter; however, the company provided slightly lower than expected guidance for the fourth quarter which was one of the perceived reasons for the sell-off. In this article, I dive further into the financial statements to evaluate the company's financial health and growth, address investor concerns, and provide my perspective on the company moving forward. In my opinion, and from my findings described in the article below, HanesBrands appears to be undervalued and the stock price is fairly attractive at these levels. I have started adding to a new position in the company at $19 a share, seeing the recent sell-off as a reasonable buying opportunity.
Snapshot of HanesBrands Stock Price Year-to-Date
With the release of third quarter financial results and fourth quarter guidance, the company's stock price has further declined by 15%. In the past week, the stock has traded around 52-week lows of $19 per share.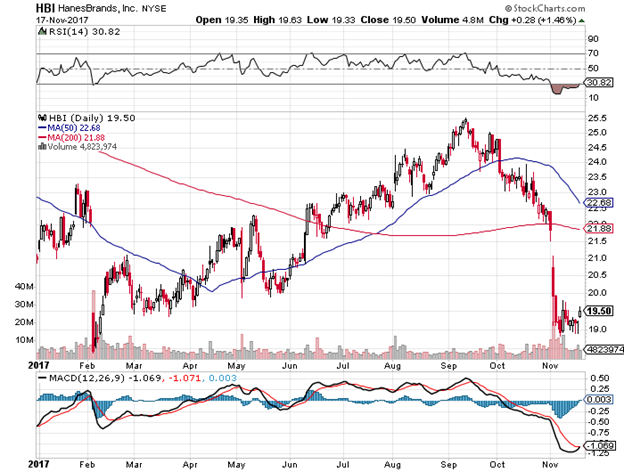 (Source: StockCharts.com)
In addition, the stock's current price-to-earnings (P/E) ratio is 12; which from a historical perspective, is the lowest in a five-year time span. Prior to the recent decline, the stock traded with a trailing P/E ratio ranging between 13 – 17 for the current year 2017, reaching a previous P/E low of 13.4 in February 2017. The decline in stock price in February 2017 was attributed to the company missing 2016 Q4 consensus estimates for revenues by $120 million and earnings per share by $0.05, as well as weaker than expected guidance for 2017.
Company's Financial Health, Performance and Growth
The company operates as a manufacturer, but has come under pressure due to growth concerns, and headwinds surrounding retailers as more consumers move towards e-commerce. In the previous and current year, the company has made several acquisitions as well as pursued its Project Booster initiative geared towards organic sales growth, cost savings, and cash flows. I focused more closely on financial health and performance year-to-date to evaluate the company's progress and outlook.
Revenue and Growth
HanesBrands has shown impressive revenue growth in the recent year. Significant growth occurred in Q1 and Q2, for 13.2% and 11.8%, respectively. However, revenue growth in Q3 was only 2.2%; which "on the surface" marks a significant drop from the previous two quarters. For investors, it is important to note that the higher revenue growth in Q1 and Q2 can be heavily attributed to the company's acquisitions of Champion Europe and Pacific Brands in 2016 which increased revenues for the later part of 2016 and has continued to add to the company's top line revenue in 2017. Thus, year over year comparisons for the first two quarters of 2017 are skewed, and one would expect revenue growth to be lower in Q3 and Q4 of 2017 as numbers become more comparable.
Additionally, management has provided guidance for Q4 revenue of $1.625B to $1.650B, which at the low end would represent 3.2% to 4.8% revenue growth year over year. The low end of that range is represented in light blue in the chart below.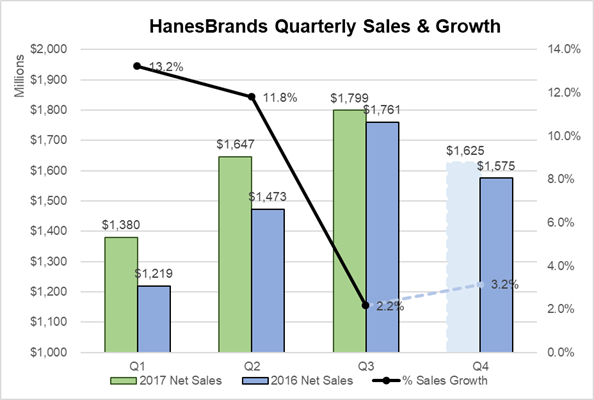 (Source: Chart created by Author derived from Company's 10-Q Filings and Company Guidance for Q4)
Segment Revenue
In addition to reviewing total revenue, revenue by business segment provides a clearer picture of operations.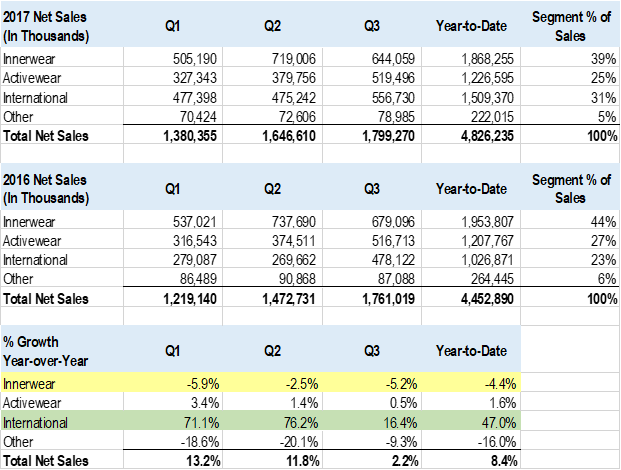 (Source: Company's 10-Q Filings for 2017 and 2016 with further calculations by Author)
As highlighted above, we see that the company has experienced significant growth in its International segment, but continued decline in its Innerwear segment and weaker growth in its Activewear segment – which indicates a concern for the company's U.S. domestic market. In particular, I have placed greater emphasis on third quarter numbers as these numbers are more comparable year over year following the company's acquisitions. Innerwear accounts for about 39% of net sales year-to-date in 2017, thus the -5.2% decline in Q3 as well as the -4.4% decline year-to-date are significant and is a concern that should be revisited.
In the company's earnings call, the company cited retail pressures for brick and mortar stores, and weaker traffic overall.
Looking at our domestic segments, as Gerald highlighted, we experienced weaker than expected market trends within the U.S. And this was apparent in our Innerwear and Activewear segment results. Innerwear sales declined from last year as online sales growth of over 20% was more than offset by pressure within brick and mortar. Back-to-school trends broadly across retail channels were softer than expected, driven by weak traffic and continued declines in the overall apparel category."
According to the company's previous 10-K filing, its top ten customers accounted for about 52% of the company's net sales with its largest customers being Wal-Mart (NYSE: WMT) and Target (NYSE: TGT) accounting for 20% and 15% of sales, respectively. Thus, HanesBrands does rely on retailers to sell its apparel goods and is indirectly susceptible to risks related to the retail sector. Direct to consumer sales in 2016 accounted for 5% of total net sales, thus online sales growth of over 20% in the 2017 shows a valued effort by the company to address consumers preferences moving towards e-commerce.
Gross Margins, Operating Margins, and Project Booster Initiative
In evaluating profitability for the company, we can look at the company's gross margins and operating margins in comparison to prior year. In particular, I look to evaluate how the recent acquisitions have impacted the business and whether there are any seen benefits from the Project Booster initiative. Management indicated in a previous earnings call that it expects the Project Booster Initiative to generate $150 million in annualized cost savings and expects to reinvest annually $50 million of these savings towards organic growth of 1% to 2%. The Project Booster initiative was launched towards the end of Q1 of 2017 and is expected to deliver full benefits by end of 2019.
Per below, the company continues to benefit from high gross margins and has shown improvement year over year. On the other hand, operating margins are lower for Q1 and Q2, but were higher in the recent Q3.

(Source: Company's 10-Q Filings with further calculations by the Author)
The increase in gross margins indicate that the company has benefited from its recent acquisitions and shows progress with the company's cost cutting from the Project Booster initiative; however, the company may have additional operating expenses due to its acquisitions which have affected operating margins. More significant and promising, the third quarter results show an increase in both gross margin and operating margin. In reviewing selling, general and administrative expenses, we see that these expenses were elevated in Q1 and Q2, but have leveled off in Q3, which may indicate greater acquisition synergies.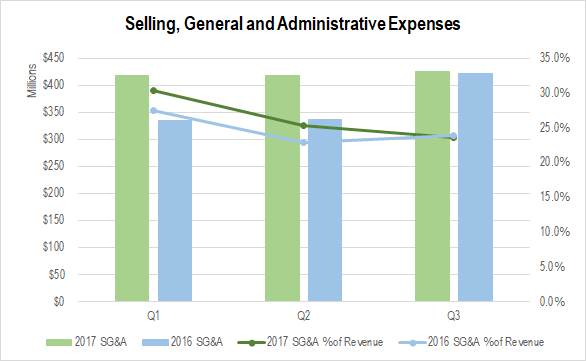 (Source: Chart created by Author derived from information in Company's 10-Q Filings)
Furthermore, I reviewed operating margins by business segment. Although, year-to-date operating margins are lower (red), the operating margins for Q3 were higher (green) across all business segments, which is promising and indicates a move in the right direction.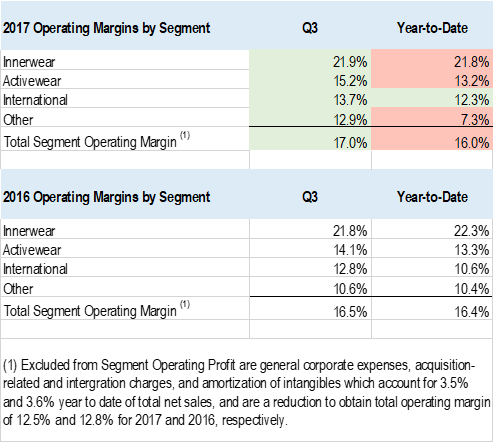 (Source: Company's 10-Q Filings with further calculations by Author)
Debt Concerns
Besides growth concerns, investors have cited the company's current debt as an item of discussion. In reviewing the company's balance sheet, the company has steadily increased its long-term debt, and it remains elevated at around $3.3 billion as of September 30, 2017.

(Source: Company's 10-Q and 10-K Filings with further calculations by Author)
In regards to maturity dates, the company only has 12.1% of total principal due within the next two years of 2018-2019. More substantial principal payments are due several years out in 2020, 2024, and 2026.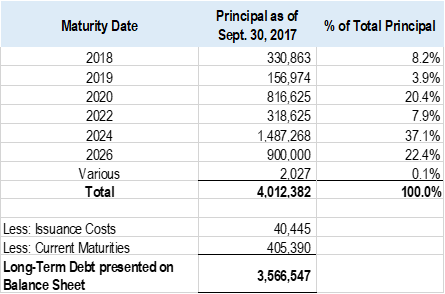 (Source: Company's 10-Q Filing with further calculations by Author)
In servicing its debt, interest expense for the current third quarter was $43.9 million, which represented a 17.3% reduction in operating income. This is a substantial expense, but manageable. The interest rates on the outstanding debt are relatively low to moderate ranging between 1.50% to 4.88%. I calculated the weighted interest rate on the company's debt to be about 3.8%. Although some may consider the debt load as substantial, the company continues to generate positive operating income and cash flow, and the payout ratio for its dividend has hovered around 33% to 34% which can provide investors with some comfort.
Concluding Thoughts
In conclusion, the company may have a few areas of concern for investors, but in my opinion, the recent sell-off seems to be overdone. One concern that I will continue to watch closely is the company's domestic revenue growth for its Innerwear and Activewear segments to see whether declines in revenue growth persists. International sales have grown substantially, but domestic sales have come under pressure. This should be no surprise. Although the company is a manufacturer of apparel goods, it relies heavily on retailers and is indirectly experiencing some of the headwinds surrounding the retail sector. The company's gross margins remain high, and its operating margin has shown improvement in the recent third quarter. In addition, I am not overly concerned with the debt burden. Although the company has increased its debt from prior years, it is still manageable when considering the debt maturity dates, interest rates, and current interest expense as a percentage of operating income.
As previously mentioned, the company's stock is trading at a price-to-earnings ratio of 12 and around its 52-week low. In my opinion, the current concerns and lower Q4 guidance does not justify the magnitude of the recent sell-off. While some analysts have recently downgraded their outlooks and price targets for the company, many analysts remain neutral to bullish on the stock. According to the Wall Street Journal, price targets range between $20 to $34 with $26.44 being the average consensus. The stock also carries a 3% dividend yield with a low payout ratio of 34%. Taking into consideration these factors, along with evaluating the investor concerns, I believe the company to be undervalued. At current levels, I find the stock to be a reasonable buy and have added a new position in my portfolio. In deciding for yourself, you should perform your own due diligence, consider the asset allocation of your portfolio, and evaluate your risks of being invested at the current time.
Thank you for taking the time to read my article. I hope that you found the information interesting and/or useful. If you liked it, click the follow button at the top of the page, and please feel free to leave a comment and share your thoughts. Thanks!
Disclosure: I am/we are long HBI.
I wrote this article myself, and it expresses my own opinions. I am not receiving compensation for it (other than from Seeking Alpha). I have no business relationship with any company whose stock is mentioned in this article.
About this article:ExpandAuthor payment: $35 + $0.01/page view. Authors of PRO articles receive a minimum guaranteed payment of $150-500.Tagged: Investing Ideas, Long Ideas, Consumer Goods, Textile – Apparel ClothingWant to share your opinion on this article? Add a comment.Disagree with this article? Submit your own.To report a factual error in this article, click here