Foot Locker (FL) is on sale with a huge margin of safety – despite its excellent financial, profitability, growth, and dividend metrics – due to overblown fears of Amazon's (AMZN) partnership with Nike (NKE). Despite the Amazon threat, FL will remain a major part of Nike's sales strategy and shows no signs of shedding profits to a degree that would justify its low valuation. DGI and Value investors can take advantage of the market fear to establish a long-term position in the company that looks primed to provide outsized returns.
Shares have tumbled YTD due to general stock market declines in the brick-and-mortar retail sector and the news that Amazon would be selling Nike shoes directly through its platform. However, these fears are likely overblown as the company will still be a major part of Nike's sales strategy. Furthermore, FL enjoys a dominant position as a brick-and-mortar location for footwear. Many people still want to be able to check out and compare the fit of footwear before purchasing it, especially for high impact footwear like running, cross-training, walking, and specialty athletic shoes/cleats. Furthermore, Foot Locker's brand name recognition, strong reputation, and long relationship with many of its customers will likely drive considerable traffic to its user-friendly website – which offers free shipping on orders over $75 and $10 off a $50 purchase when customers join its VIP loyalty club. Adding to its main website are its specialized Lady and Kids websites, Eastbay, Footaction, Champs, Runners Point, Sidestep, Six02Foot, and 20 million-strong social media follower tally. The company also continues to invest in its brand power by running star-studded promotional campaigns.
Analysts seem to agree with this bullish analysis – Wedbush: "FL is still and will continue to be a strategic account and several of its retail concepts will play into NKEs direct strategy"; Morgan Stanley: the company is prepared to d efend itself from the impact of Amazon selling Nike shoes directly and expects its market share position to hold; Citibank: "FL continues to outperform the majority of mall retailers [with] positive comp trends and accelerating traffic"; Barclays: "FL is the dominant retailer of premium, innovative athletic product in the physical brick and mortar world for both the US and Europe, which is similar to Best Buy's (NYSE:BBY) position in North America"; and Baird: expecting slower comps to be temporary, with new products from shoe makers showing the way to accelerated H2 results. By putting their names behind the company's ability to outperform the market in the coming years, analysts have placed a solid Buy rating on the stock with a $67.63 price target and project 7.22% annual EPS growth over the next 5 years. Adding to FL's bullish credentials, renowned value investor Joel Greenblatt recently purchased a sizable stake in the company.
In testament of its strong market performance and popularity with shoe shoppers, Foot Locker boasts strong financial, profitability, growth, and dividend metrics. The company has grown EPS at an average pace of ~18% over the past five years, while revenues have also experienced robust growth: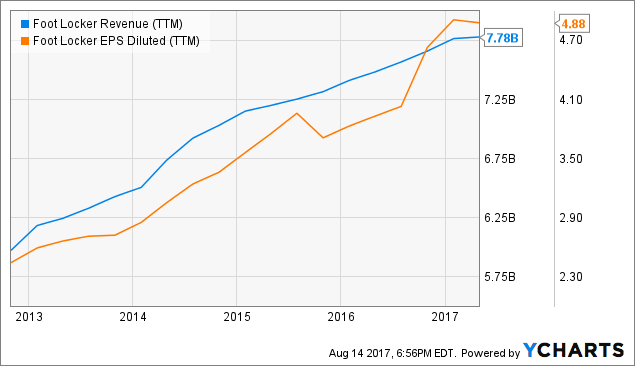 Its economies of scale and pricing power with suppliers have enabled it to generate net margins well over 10% over the past half decade, contributing to high profitability: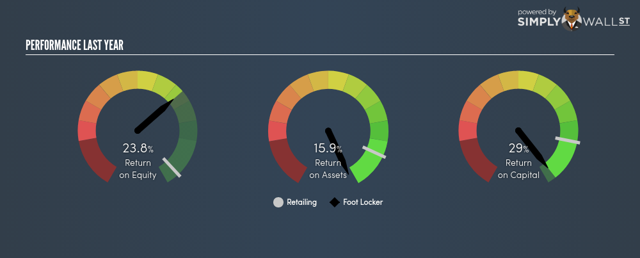 Source
Furthermore, the company is well-positioned to innovate and inorganically grow its way through any economic downturns and declines in profits that may come its way by leveraging its strong balance sheet (4.9 current ratio, 0.04 Debt to Equity ratio, and a very impressive NCAV):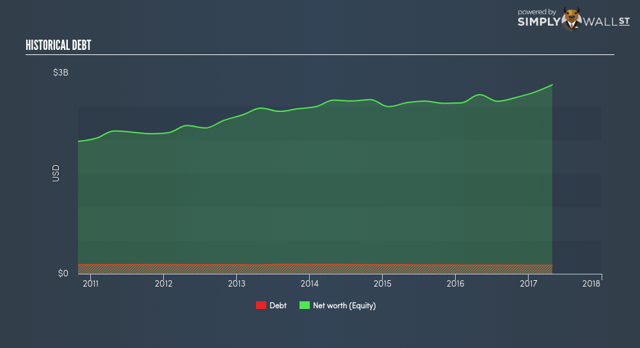 FL is also positioned to be a great DGI stock via its low payout ratio, consistently growing dividends, and robust share buyback program: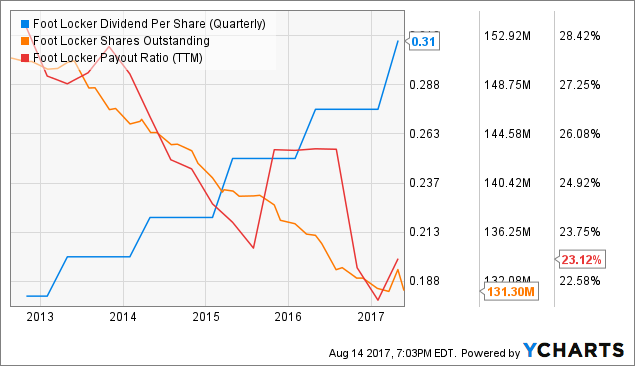 Finally, FL makes a compelling buy at present prices due to its large margin of safety. Even if the company never grows EPS again (which is unlikely due to its buybacks and inflationary trends), it will return 16% annually, plus reinvested dividends:

Source
FL is priced way below industry, market, and historical averages, implying that the market thinks its profitability will collapse:
| | | | |
| --- | --- | --- | --- |
| FL | Industry | S&P 500 | FL 5-yr. Avg. |
| 10.1 | 23.2 | 21.9 | 15.8 |
| 2.3 | 5.5 | 3.0 | 2.8 |
| 0.8 | 2.0 | 2.1 | 1.1 |
| 8.8 | 19.8 | 13.5 | 13.0 |
| 2.4 | 1.2 | 2.0 | 1.7 |
Investor Takeaway:
While the Amazon threat is real and will likely eat away at long-term growth, slowing the company's growth from its torrid pace over the past half-decade, the market appears to have clearly overreacted. The current price implies that earnings will collapse from current levels and that a company with a strong cust omer base, competitive web capabilities and loyalty programs, strong profitability, and a fortress balance sheet will be unable to adapt. There are no convincing signs that this is happening or will occur in the near future and, until there are, the massive drop in share prices is unwarranted. Foot Locker offers investors potentially strong long-term dividend growth and total returns, making it a worthy investment for DGI and Value investors.
Disclosure: I/we have no positions in any stocks mentioned, but may initiate a long position in FL over the next 72 hours.
I wrote this article myself, and it expresses my own opinions. I am not receiving compensation for it (other than from Seeking Alpha). I have no business relationship with any company whose stock is mentioned in this article.
About this article:ExpandAuthor payment: $35 + $0.01/page view. Authors of PRO articles receive a minimum guaranteed payment of $150-500.Tagged: Investing Ideas, Long Ideas, Services, Apparel StoresWant to share your opinion on this article? Add a comment.Disagree with this article? Submit your own.To report a factual error in this article, click here