Baidu (BIDU) recently filed a draft prospectus with the SEC to IPO iQiyi, who many call China's Netflix. Although Baidu has not disclosed how much capital it wants to raise, analysts have previously estimated that iQiyi would likely IPO in the valuation range of $8-$10 billion and that Baidu might seek to raise around $1 billion. Given that Baidu currently holds 80.5% of iQiyi and expects to remain the majority shareholder after the IPO, any increase in iQiyi's stock would benefit Baidu shares. Baidu itself is worth $86 billion in market cap.
iQiyi is a leader in a huge market
One reason iQiyi is called the Netflix of China is that it streams some Netflix (NFLX) shows, thanks to a licensing agreement struck in April 2017. Netflix has not been a major player in China due to Chinese government regulation that stipulated no service have over 30% foreign content.
Another reason is that iQiyi is a major player in the online video sector. In terms of mobile MAUs in China, iQiyi is an undisputed force, along with Tencent (OTCPK:TCEHY) Video and Alibaba (BABA)'s Yukou Tudou. As of August 2017, Tencent Video was the market leader by a hair, with 457 million mobile MAUs, and iQiyi was a close second, with 442 million. Yukou Tudou, which Alibaba bought for a valuation of $5.4 billion in 2016, was third, with around 325 million mobile MAUs.
In numbers outside of MAU, iQiyi is the leader according to Baidu. Per Baidu's Q4 conference call, iQiyi is No. 1 in DAUs, average time spent, number of paying subscribers, and profit margins. Although it's not profitable, iQiyi is improving. According to Baidu, iQiyi reduced non-GAAP operating margins by 11 percentage points in 2017 and by 12 percentage points in the fourth quarter of 2017. Some analysts believe iQiyi could break even this year, although an IPO might change that.
Growth for the app is strong. According to the most recent data, monthly time spent on iQiyi's mobile app rose 22% year-over-year in December 2017 to 408 billion minutes. The company's paid subscriber base has increased substantially too. In December 1, 2015, iQiyi had 10 million paid subscribers, and six months later, it had 20 million. (Note: In terms of paying subscribers, it is difficult to compare between companies and across investment bank estimates as they may use different methodologies.)
iQiyi's value has increased steadily. In early 2016, CEO Robin Li tried to buy iQiyi for $2.3 billion, but Li's offer was rebuffed by some shareholders and Baidu's board as too low. In late 2016, Baidu considered an IPO of iQiyi, valuing the unit at $4-$5 billion, but ultimately decided against it. Now many investors believe iQiyi will IPO for $8-$10 billion, if not more. In terms of its real value, Jefferies and CICC believe it is worth around $15 billion.
There's growth ahead. Research shows that many Chinese are willing to pay for quality content. Investment Bank Jefferies estimates that the total number of paying subscribers to online video will almost double to around 140 million by 2020 vs. an estimated 74 million in 2017.
Impact an IPO Would Have on Baidu
In my opinion, an IPO of iQiyi would be a plus for Baidu shares. An IPO would allow Baidu management to focus more on the real prize, AI, which the company has invested much of its resources. The floating of iQiyi also would allow the market to give more credit to Baidu's ownership of the unit. Seeing as the unit is currently not profitable, iQiyi subtracts from Baidu's profits and makes Baidu look more expensive than it really is from a P/E perspective. If iQiyi were floated, investors could easily see how much iQiyi is worth, how much Baidu owns, and incorporate the combined number when calculating Baidu's P/E.
In the short term, if the market gives iQiyi more credit for future growth/execution than the consensus market estimate of somewhere between ~$8-15 billion, Baidu shares could rise when iQiyi ultimately IPOs.
In the long term I think there's a lot of upside to iQiyi if management executes. As evidenced by Alibaba's Yukou Tudou purchase and the purported IPO valuation of iQiyi, the value of a paid subscriber in China is low right now. It's fractions of Netflix, which has a per paid subscriber valuation of over $1,100 (Netflix reported Q4 paid subscribers of 110 million globally and the company has an enterprise value of $130 billion). Going forward, I believe the value of a paid subscriber in China should converge with something closer to that of Netflix as China's economy grows, and that added factor could do wonders for iQiyi shares and by extension, Baidu's stock.
The biggest risk for iQiyi is Tencent, which is a social media giant with almost 1 billion active users on WeChat alone. Tencent certainly has the resources to compete and Tencent's competition in terms of increasing bidding for content could increase content costs so much that the sector remains unprofitable for longer than expected. Given that iQiyi's margins have improved over recent quarters, the rising content costs haven't been a big problem so far, however.
Disclosure: I/we have no positions in any stocks mentioned, and no plans to initiate any positions within the next 72 hours.
I wrote this article myself, and it expresses my own opinions. I am not receiving compensation for it (other than from Seeking Alpha). I have no business relationship with any company whose stock is mentioned in this article.
Editor's Note: This article discusses one or more securities that do not trade on a major U.S. exchange. Please be aware of the risks associated with these stocks.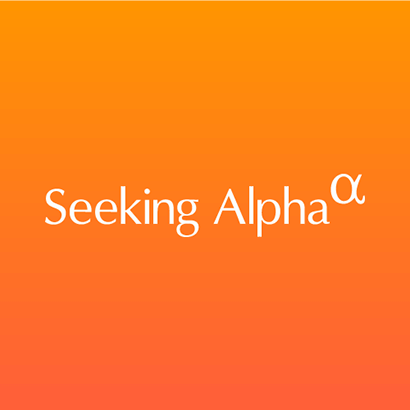 About this article:ExpandAuthor payment: Seeking Alpha pays for exclusive articles. Payment calculations are based on a combination of coverage area, popularity and quality.Tagged: Investing Ideas, Long Ideas, Technology, Internet Information Providers, ChinaWant to share your opinion on this article? Add a comment.Disagree with this article? Submit your own.To report a factual error in this article, click here